Having a truck paid off makes for, well, a boost in versatility in decisions about the business — in a variety of ways, too, many associated with outright ownership of specifically older equipment, readers say, given maintenance and purchase-price worries about newer units.
After my story last week about Wisconsin-based Jenson Lawrence and his 1996 FL, readers responded in direct answer to the question in the title — "Why do you hang on to that old truck?"
A variety of reasons presented themselves:
1. It's easier to take time off/be choosy about freight -- In Lawrence's case, before deciding on the recent overhaul, he was on the verge of financing $150,000 for a new glider from Fitzgerald Glider Kits, but the $3,200 monthly payment didn't make sense.
"I'd have to run hard," he said. He preferred to save for repairs rather than make the big investment for new equipment.
2. Cost, pure and simple -- "Who can afford a $3,000-a-month truck payment and the higher cost of insurance" that comes with a newer truck? asked Tennessee-based owner-operator Andy Soucy, who runs in a 2001 Western Star powered by a Cummins N14.
Soucy extolled the advantages of older equipment when items such as the turbo go out after the warranty terms close. With new trucks, "you have repairs that are four to five times the cost than with the older trucks," he said. "The turbo on my N14 is roughly $700," several times less expensive than that on a next-generation ISX, he said. "What is the point of cutting your fuel expense by 40 percent when your maintenance cost is triple and reliability is not there?"
3. Fuel mileage — While it's been documented that most 2010-emissions-spec engines are averaging better fuel economy than many older trucks have for years, multi-truck owner John Benning provided a counter-example.
"My 2013 386 Peterbilt [powered by a Paccar MX and a 10-speed] generally gets from the high 4s to 5.5 mpg," he said, and better when empty. His 1998 379, however, gets [almost 6 mpg] consistently" with a 550-hp Caterpillar 3406E and an 18-speed, "and it actually goes when you step on the throttle."
The 1998 model also "has an aversion to the shop," Benning added, yet another paramount concern for operators.
4. Reliability — "Let's not forget, warranty doesn't cover lost revenue" when the truck needs repairs, Soucy said, "not to mention customers will be hesitant to deal with you" if your equipment is unreliable.
"You can actually do a roadside repair with your fairly basic tool kit" on older units, noted Mike Shipley.
Soucy talked to Overdrive about similar issues as the recession came on in the winter of 2007-08, part of a cover story on the habits and practices of the debt-free among the readership.
Fuel prices were nearing a then-unprecedented $4 a gallon, and the Landstar-leased owner-operator, then pulling a step deck, was thinking of shutting down for a long holiday to "stay out of the mess of slow freight and high fuel." With a truck or trailer payment, he added, he likely could not have afforded that.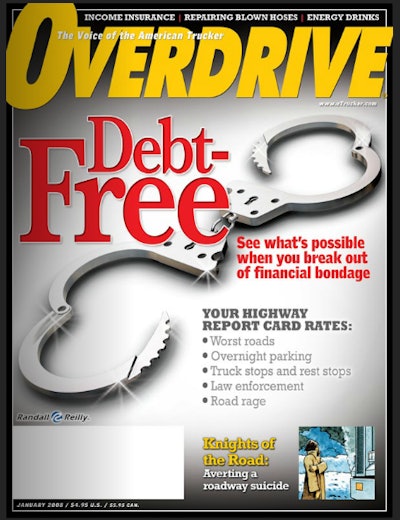 9 more reasons follow from reader posts to Overdrive's Facebook page following the story about Lawrence's overhaul decision.
Reader Ed Benton notes he knows "of several farmers in my area that run stuff from the 80s still. One truck has close to 4 million miles on it. When asked when he is going to retire it, he said 'when I can no longer repair it at all.' The motor in it is a Big Cam — 13 speed manual transmission, 3:55 rears and manual slack adjusters on it."
Jason Hale: We have a 1990 FLD 120 [powered by a] 3406B Cat … It's enjoying semi-retirement moving equipment and is the backup for when the C-15 Cat-powered trucks break down.