The following tale comes from the pen and keyboard at the desk of the esteemed Richard Wilson, head man behind Delaware-based TCRG Consulting, handling a variety of compliance matters for fleets and owner-operators. Merry Christmas to all from the staff of Overdrive! (Editor's note: This piece was published before the ELD mandate took effect, meaning Santa was spared from having to show roadside officers electronic logs.)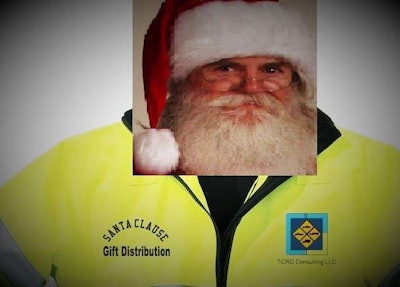 So I get a call from a client of mine, Elves Trucking LLC, of the North Pole. Seems they had problems with a certain DOT elf. He'd been dismissed by Santa for not keeping up at the shop. He went to sleigh inspector school and graduated as an Official North Pole Sleigh Inspector. Now, you would think that knowing all his old elf friends he would understand the importance of all the sleigh drivers, who were running their hats off trying to bring the materials to make the kids toys for Christmas. But this DOT elf decided he would take revenge on Ol' Santa and his sleigh drivers to make the North Pole the most enforced corridor anyone had ever seen.
He found one of Santa's sleigh drivers off on the shoulder of the snow road, pulled his little sled up behind the sleigh. After running DOT numbers and tags for thefts or suspensions, he approached the sleigh driver on the side of the road and found that he'd pulled over to call the workshop and get clarifying directions to just which one of Santa's shops this load was intended for. As the DOT elf approached the side of the sleigh, he observed the sleigh driver talking on a cell phone without his shoulder harness locked in!
"Driver, I need to see your license, medical card, candy cane, logs and manifest," he said.
Well the old driver, himself an elf, snickered, and a half-smile appeared on his face. "Sorry, old boy, but the logs are all back at the shop. They are needed there more than they are here!"
Thinking this was little more than a "holiday-cheerful" remark, the DOT elf immediately took the driver's information and with a huffing grunt went back to his sled. He saw that the manifest stated the load was to go to a shop in Northern Canada. Canada was well over the 150-air-mile radius allowed by the short-haul exemption Santa's sleigh driver was supposedly regulated by. Now the DOT elf, thinking he'd punish Santa for trying to get away with running sleighs without logs, approached the driver elf and told him that since he had no logbook, he'd be receiving a violation.
The poor driver was flabbergasted, distraught that this would no doubt affect Elves Trucking's CSA score, not to mention his own PSP report. He thought about eating his required candy cane out of spite as he was told to "move that sleigh! You can't stay on the shoulder!"
The DOT elf got into his sled and pulled out into the sleigh's tracks to block traffic so the elf driver could get out into traffic — it was around 5 p.m. and the sleighs and sleds were all backed up and down the snow road.
A month later, a ticket showed up at Santa's safety office saying the elf driver was to pay in due course 3,000 gum drops' worth of a fine for "Operating a Sleigh Placed Out of Service."
A month or so after that, just seven days before The Big Day, Santa's elf driver went to court to explain his side and why the charges should be dropped.
"You better get some help," the judge told him. "You're about to lose this case."
I was too busy with a client to help but suggested this great guy I had trained many years ago. His wife answered the phone when I called, and I explained my dilemma. She immediately got a hold of this jolly ol' guy, who called me right back. After explaining to him what had happened, it was like I could hear the old man smiling right through the phone: "Let me take care of this one. I know that DOT elf."
So my friend way up North went back to the court with the sleigh driver. My jolly friend explained to the Judge all the "mistakes" made by the young DOT elf. And as he drove off in his chromed-out sleigh, he chanced a glance back at the DOT elf and sleigh driver and, with a nod of his head and a tip of his CAT hat, wished a Merry Christmas to all and lower CSA scores through a DataQ! 'Cause the DOT elf had no choice but to drop the case. My mysterious old man, who had straightened it out, was on his way home to get a 10-hour break.
He had lots of deliveries to make later that night, so pre-tripped his sleigh to make sure it was tight.
Later on, the DOT elves were on the prowl only to find a jolly old sleigh driver elf with a time card instead of a logbook on hand. After Elves Trucking's visit with the DOT elf that day, all the sleigh drivers were told that, if asked for the manifest, make sure you explain, in very clear terms: "I am only the local sleigh driver and taking my candy cane back to the house!"