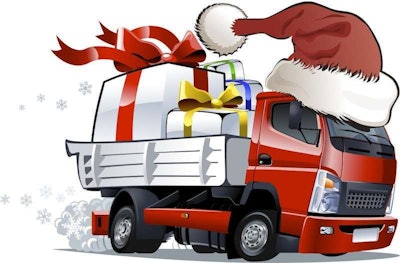 The following bulletin comes by way of the desk of Richard Wilson of TCRG Consulting — see our note at bottom about attempts to verify its accuracy. –Ed.
Santa Claus, president and owner-operator of Santa Inc., has had his medical card revoked, said a senior Federal Motor Carrier Safety Administration official who wished to remain anonymous due to the sensitive nature of an ongoing investigation. Claus will not be running presents Christmas Eve, at least not on U.S. roadways, over which FMCSA has authority, as the agency has ordered him shut down.
Investigators and medical specialists, sources say, determined that Claus' Body Mass Index is well over 35, his neck circumference 20 inches, and thus there's a high likelihood he has sleep apnea and his medical certification should be contingent on a sleep study. Questioned as to where exactly that was in current regulations, however, they threw up their hands.
But they pointed to Claus' blood pressure as a more critical issue relative to his medical card's status: it's sitting currently at 150/95, perhaps on account of all the cookies and milk he consumes.
And that's not his only problem this year. He can not show seven prior days' worth of logs – officials suspect he has not actually been resting during the time but operating a commercial motor vehicle staging presents. It's clear, at least, that he has not had a 34-hour restart, and if he were to even attempt to use one in the time left before 11:59 p.m. Christmas Eve, he would most certainly violate the hours rules.
Furthermore, Claus has not taken a 30-minute break in thousands of years, and he's racked up far too much on-duty not-driving time in detention at outlets where he picks up toys for the kids, so by any reliable measure the operator is out of hours.
If he wants to try the air exclusively again, as he apparently did last year, the state of Maryland, in cooperation with Federal Aviation Administration, is waiting for him to come within airspace – they plan on shutting him down for bypassing the scales. If they miss him – and we all know Claus has his ways – California is waiting out West to fine him for his reindeers' violation of state emissions standards.
BREAKING:
Turns out Claus also hasn't paid his EZPass toll account balance from last year – his driving prileges are more than likely suspended throughout most states. Sorry, folks: Looks like Santa will not be on the road, or in the sky, this time around.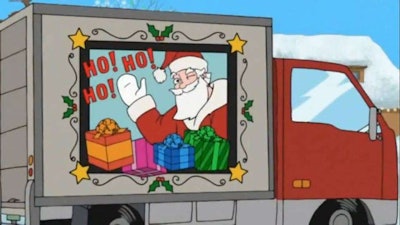 UPDATE:
Do not despair, children! When we attempted to reach out to Mr. Claus for confirmation of this grave report, his secretary refused to confirm but did refer us to the FMCSA Register, which showed a Dec. 23 listing for new operating authority granted to Claus LLC. Given the agency's typical behavior around Christmas, it's unlikely anybody will notice what for all intents and purposes appears to be what they like to call a "chameleon carrier" until well after the big Christmas run. A happy holiday to everyone!