As noted ahead of last year's installments in the chronicle of longtime former owner-operator turned company driver Wes Memphis and his transition to e-logs, known for embellishment, coffee-shop philosophizing and more, the pseudonymous Memphis is based in the Midwest. Catch Memphis' previous pieces is this series, which officially concluded last year, at this link. The following is his update after a full year on e-logs and some surprising numbers on year-end income: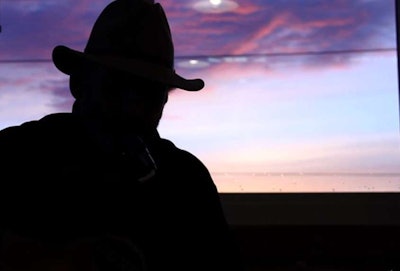 Well, year one of e-logs is officially in the books, and what a year it was. Anyone care to guess how much money I lost in 2016 compared to 2015? Ten thousand? Do I hear fifteen? Ahhh, the good old days when I was still wild and free on paper logs and Viney my beautiful wife of 36 years was still on me to try to take all my "fake trips" out of my pockets before wash day because they were clogging the dryer.
Well, let's just start from the beginning, in case we haven't met. Early in 2016 I was asked to be a guinea pig by the folks I work for to troubleshoot a brand new e-log program they had purchased. I had been there a while, and they had been damn good to me, so I consented. Worried about what I would do with all my extra free time, I asked Todd Dills if I might make a few modest contributions to this publication, in hopes it may help me maintain whatever sanity remained after 30 years in a truck. My company issued me a standard Android tablet, directed me to an app, and after about an hour's worth of training, away I went.
The program we used relied exclusively on cellular technology for its communication backbone, and had problems with logging out on its own when you were entering your inspection information at the beginning of your day. This would sometimes cause you to burn seven to fifteen minutes off of your fourteen, and after about the third attempt to log in it would finally take. Cloudy days seemed to be the worst. Moreover, since drivers were issued standard Android tablets with no restrictions whatsoever, there were problems with drivers using the tablets for entertainment purposes not intended by the company. A very close friend of mine was asked to remove seven apps from his tablet which had nothing to do with e-logs — Facebook, Pandora, Youtube, Reverb, Instagram, Jango and … excuse me, six. This, however, was the least-expensive route for the company, so everyone tried to make the best of it.
Over time, the company deemed the savings from this cheaper program to be more costly in the long run, as they were constantly on the phone with drivers who were experiencing login issues. Also, nobody in dispatch had really signed up to be the data police, and there were just some drivers who couldn't stop watching John Oliver and goodness knows what else on their breaks.
So, to their credit, the company scrapped the cheaper system and invested in the more expensive satellite-and-cellular technology. They bought more and more trailers, creating a drop-and-hook system that has made utilization so tight that mileage pay has gone up across the board. Things have become about as close to seamless as you're going to find in trucking. The satellite-and-cellular-based system also enabled the company to have a real-time dashboard overview of drivers' available hours, while the cellular-only system did not automatically afford that capability. Somehow, it seems like I actually have more time to work on the better system. They also issued the e-loggers in the company a three-cent raise and turned their trucks up.
So the real question: "How much money did you lose, Wes?"
The answer: none. I gained about $50 over the previous year.
Is it possible I'm no longer the hardest runner in the fleet? Absolutely. I got other stuff to do in life, like watching reruns of "The Middle" on Friday night with Viney. Is it possible that a guy who lives in his truck and runs harder than me would see a loss in wages? Maybe. Is it possible I was getting all the gravy runs because the company had a vested interest in seeing to it I didn't fail? Absoeffinglutely. The e-loggers did, in fact, get better loads at first. Over time, as more and more drivers have transitioned over, the gravy has thinned just a scootch.
While I'm not an apologist for more regulation, I am, admittedly, a frothing-at-the-mouth-fanatical-true-believer in the notion that the conventional wisdom is almost always wrong these days. When people tell you you're going to automatically lose 15 percent on e-logs, ask them how long they have been on them. My guess is the answer more times than not will be never.