First up, a response to my post from a couple weeks about Bryan DeKock's restoration of the 1977 Kenworth the family says was the inspiration for the big truck mural on the old Monteagle truck-stop. If you missed that post, find it via this link — the rig made it's first show this past week at the American Truck Historical Society annual convention in Des Moines Iowa. And .. a picture: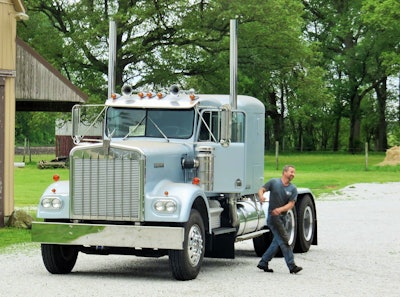 Via Facebook, this from Warren Wylds, who cracked wise: "No ELD, no ABS, no ERG, no SCR no DEF? Hell he probably don't have steer axle brakes, either. How does this truck operate without killing people?"
Wylds of course left the most crucial thing for the end — "Oh, that's right. It had a Pro in the seat."
'Why Log Truck Drivers Rise Earlier Than Students of Zen,' and the rule of thirds
As noted ahead of some of the past year's installments in the chronicle of longtime former owner-operator turned company driver Wes Memphis and his transition to e-logs, known for embellishment, coffee-shop/truck-stop philosophizing and more, the pseudonymous Memphis is based in the Midwest. As noted today for the first time today, Memphis also might be the first-ever trucker whose decision to haul was instigated by reading a poem in a college English class. Catch Memphis' previous pieces is his series of guest contributions to Channel 19, which officially sunset last year but which like many a trucker before him has come out of retirement this first half of the year, at this link. The following is his latest update after a period of growing angst over the reality of trucking with electronic logs:
I can remember reading the Gary Snyder poem "Why Log Truck Drivers Rise Earlier Than Students of Zen" in a college English class in the '70s and deciding at that moment to become a truck driver:
In the high seat,
before-dawn dark,
Polished hubs gleam
And the shiny diesel stack
Warms and flutters
Up the Tyler Road grade
To the logging on Poorman
Creek.
Thirty miles of dust.
There is no other life.
It didn't help that I'd gotten Viney pregnant that year, either; but for almost 40 years now, I've been rising early, visualizing those little Tibeten students just snoozing away in their disheveled orange robes, while I, at one with the drone of some toiling motor, offered my own 3 a.m. prayers.
Now a full year and then some into e-logs, the students of Zen that have lived in my head all these years have returned with bells on, mocking my state-sponsored, ten-hour-nap lethargy. No more early rising for this ol' boy. As my old friend Thud once told me, "If you're not living on the edge, you're just taking up space." For the first time , I find myself regretting the space I am occupying in this rapidly changing world, and asking, "Did I really leave college for this?"
Much has been written and proposed on the subject of ELDs by those who pay attention a great deal more than me. I have never ventured outside the micro-cosmos of my own individual experience, because this was always meant to be a chronicle of one old boy's journey and not a sweeping assessment of the industry writ large. That said, if this past month at our company is any indication of future industry-wide trends, there's going to be no lack of trucking jobs.
After submitting my last contribution to this august publication, I took 10 days off, as I was just about ready to hang it up myself and in need of some real home time with genuine flesh-and-blood home folks. Upon my return to work, nearly ten percent of our fleet had just up and quit in the wake of the memo I last wrote about. Bear in mind, I work for a company where, in my first two years here, had lost a mere three drivers, and two of those were to death by natural causes. I had to literally wait for someone to retire to get hired on here all those years ago. Now, they were leaving in relative droves. The demographic profile of most of those who left were those who were at retirement age and had had enough. The takeaway for me in all this is to take the "ELD or me" crowd seriously. There are those who have other options than to beat their heads against a brick wall and cry in their beer, or blog as the case might be, like the rest of us. To them I wish Godspeed.
One can't help but wonder whether the situation at hand speaks to business consultant Jeffrey Hayzlett's "Rule of Thirds." When managing weak performers in any business context, Hayzlett's experience demonstrates that "one third will get it right away, one third will eventually get it, and one third never will." Never mind the fact that ELDs are being pushed by the private sector and tort law as much or more than they are by the FMCSA due to vicarious liability concerns; or that there is an upcoming generation who will never see a thousand-mile overnighter as purely the practice of the protestant work ethic. What if a third really do hang it up, as Hayzlett's axiom suggests? What will the country do then?