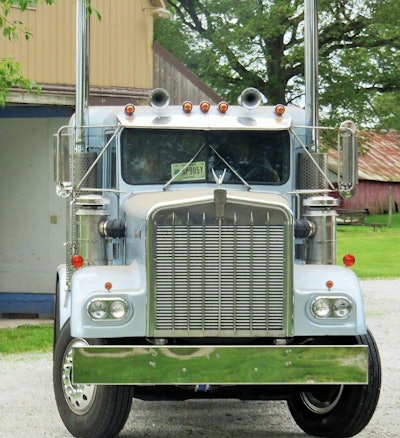 Keep an eye out for the 1977 W9 above at the ATHS National Convention and Truck Show today through Saturday out in Des Moines, Iowa, if you're in attendance. It's a classic with something of a classic story, according to the Indiana DeKock family that's shepherded the rig back into working order. This picture, from its maiden run this past Sunday, noted Jennifer DeKock, was apparently the first in 29 years for the rig that she says was the inspiration for the mural painted on the old Monteagle Truck Stop, which I mentioned in my post from last Friday.
"The truck has history," Jennifer says about her as yet unsuccessful search for a picture of the old mural. "I just want to do it justice. Yes, I know it's just a truck. Our son got it running and drove it to our house Sunday, first run in 29 years! He has worked so hard to bring this girl back to life.
"I have exhausted all leads, I have searched every old truck stop site available to find a photo, calls, e-mails, etc."
Tuesday, she noted, "Today it gets some pin striping, new wheel seals and leaves for the show tomorrow morning."
When Jennifer, her husband Kenny and son Bryan were on the way to the shop that did the striping to pick the truck up that night, she told Bryan of her efforts to locate a picture, to no avail, and happened to mention Overdrive and my name. Turns out Bryan and I talked for a story about his then food-grade tank niche for a story way back in 2008. "Dream Hauls" you can read here — the "Sweet Spot" portion of that story, featuring owner-operator Bryan DeKock, follows a variety of other niche profiles, too, of operations where a particular aspect of the niche suited the operator to a tee. (I'd known Jennifer's surname was familiar for a reason.)
Jennifer added of the DeKock family, a multi-generational trucking family at this point — "you either farmed or trucked" in generations gone by, Jennifer noted — "My husband's father hauled cattle all over, and I worked the feedlots until I went back to school and got my nursing degree. I still keep my CDL current just in case I'm needed, but no need for me in a long, long time now. Two of our sons, Bryan and Kevin, became owner-operators, then Bryan opened a weld shop," later selling to a milling concern and joining onto their operations to oversee the trucking side of things, through which Kevin and Kenny haul loads too. Kenny now gets home most nights.
Another son, Dan, tried trucking for a time, Jennifer says. But "he loves welding and fabricating more, and he has his own business now, too."
Correction: Credit where credit's due
Turns out the meme image I credited to a member of Rate Per Mile Masters in my Monday post about a couple load/unload quandaries was a slightly modified version of this original:
It's fun to always be playing an unwinnable game, isn't it, #truckers?#TruckThat!#truckdrivers #bigrigs #18wheelers #detentionpay #moretotalcrap

Posted by TruckThat on Tuesday, January 31, 2017
And that comes from the folks behind the #TruckThat campaign, of course, a precursor to the One20 community's launch last year, as Michael Parker kindly pointed out. "Please share our memes any time — we love that! We only ask that the complete images be used because there is actual time, effort and expense put into them. And, of course, we understand that you likely had no idea this was an altered TruckThat image." Indeed.
Keep on truckin'…