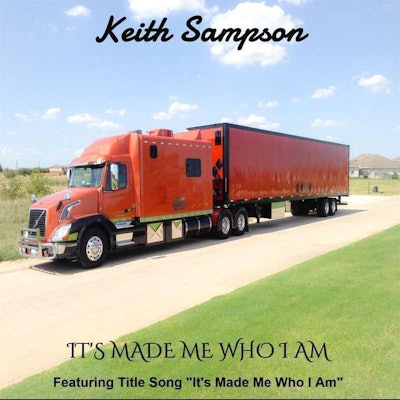 Before we get to Sampson's new disc, a question from readers Kenneth and Jennifer DeKock: Anybody got a picture of the truck mural that was once on that old Monteagle Truck Stop at the top of the mountain on I-24?
As they noted, their son "recently purchased a 1977 Kenworth truck (in pieces) and he is in the process of putting it all back together. He is planning on taking it to the truck show in Iowa at the end of this month. This truck is the one that was painted on the wall at the old Monteagle Truck Stop. This stop has been torn down, and our family would like very much to find a picture of that wall mural, of this truck. Can you help us?" Any tips for the DeKocks, drop them in the comments here.
And so, without further ado….
If you don't recognize owner-operator Keith Sampson's name, hark back to Overdrive's first annual Trucker Talent Search singer-songwriter competition in 2014, where he came away on top with an acoustic rendition of one of the tracks on his new record. "The Woman Behind the Man" was a salute to the significant others in so many truckers' lives who not only contribute to the family life at home but the business as well in many cases. That one's is one of the older tracks on the record, "It's Made Me Who I Am," as Sampson told me in the conversation we had this week. Many of the 11 other songs, including the title track, have been written since the time of the talent search, which spurred Keith on in the direction of this the final product.
You can hear our talk (along with pieces of five tracks on the record) in the podcast players above and below.
The Tuscon, Ariz.-based Landstar-leased owner-operator (teaming with his wife, Vickie, in a 2014 Volvo with a sharp 156-inch ARI bunk and 53-foot van painted to match) is currently on a dedicated account, and recently celebrated a deal made with Laughing Hyena records to distribute the new CD to truck stops. For now, enjoy the songs in the podcast. I know I will, particularly the track that anchors the whole thing, the title song about Sampson's West Virginia childhood, his hardworking mother and his reuniting with his father at the very end of his life. Take a listen:
Podcast: Play in new window | Download