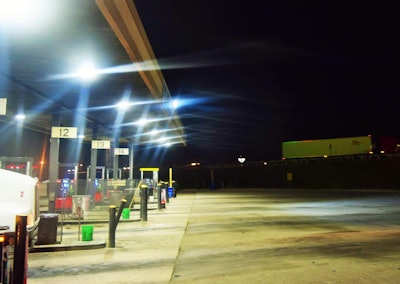 Safety: It's been a big part of the stated rationale behind all manner of regulations coming down the pike over the last decade, whether hours of service changes that were later determined to have little significant safety benefit and scrapped (though only after Congress stepped in and shut the door) and, now, of course, to ELDs. In its official, as-yet failed challenge to the ELD rule, OOIDA made a big deal out of what its attorneys deemed little more than the agency's mathematical "sleight of hand" in justifying crash-reduction benefits expected from the ELD mandate. OOIDA's legal filing with the Seventh Circuit appeals court — access it via this link — beginning on p. 31, at length spells out the "predictive" modeling the agency used, as opposed to an evidence-based model comparing actual carriers and their actual crash performance, to justify the mandate. I've written about that in past, too, to one degree or another.
All that said, driver/former owner-operator Wes Memphis — who's been writing here on Channel 19 under that pseudonym time to time since his carrier picked him and several others to begin an e-log transition last year — and his small-ish fleet employer got something of a reality check recently via the CSA Safety Measurement System and its now private scoring methodology. While I'd deliver a caveat that it's problematic to utilize those scores to judge any carrier's true safety (as Congress, memorably, in the FAST Act agreed), when Memphis noted he was ready to weigh in of a fashion on the question of ELDs and safety, well … I'll let him take over from here:
One thing you come to learn around here is when there is the same highlighted handwritten memo on every table of the drivers' room, in the company newsletter, on the shop bulletin board, even on the inner door of the bathroom stall, somebody done messed up good. And there it was, plain as day, our FMCSA portal with our company's Safety Measurement System snapshot through the end of March. The results were sobering. In the months following the implementation of e-logs, our Unsafe Driving spiked over 300 percent from 21 in September of 2016 to 64 most recently.
An accompanying memo placed in each driver's mailbox announced, regretfully, that the speed on each truck would be brought back down again due to a number of factors, including drivers speeding through construction zones, reduction in fuel mileage and pressure from our insurance carrier.
In the months I've had the honor of being an underground guest blogger for Overdrive here, I've come to learn the merit of peer review. While , yes, there are those little stinkers in the comments section who say the things one comes to expect when folks aren't in the same room together, there have been some really crisp, well-reasoned questions that one appreciates as much as a good pearl snap Western shirt from Goodwill — had to sift through some stuff to get to it, but there it was.
Some of the better questions requested my opinion of the impact of e-logs on safety. I stated at the time I had nothing in writing concrete to reference, but suspected a negative impact. In my paper log days, I truly believed that the law of safety superseded any law of man, because there is an old book I read which maintains that "Safety is of the Lord."
Ergo, if I choose to work off of the old split log rules, which were enacted by a sitting Congress, until traffic dies down in Atlanta, and make it look on paper like the rules enacted by a special interest group and a judge were in effect, well … that would be between me and my Lord and Savior Jesus Christ. As far as I was concerned the D.O.T. could just stick it. And that's just the way I felt about it.
Now, however, we are left no quarter. We have to get ourselves down to Dalton, go to bed, and wait until rush-hour Atlanta traffic to start our next day. There is no model for traffic avoidance.
I don't know how much longer I can do this. Of course we are less safe, because there is no way left to avoid the idiots. The data also suggests there's no way for the other idiots to avoid, well, me.
Full-discosure time. They got me for seatbelts. It was the Bluegrass Binocular Brigade. Seems like they can't get us for log books now, so they're pulling put all the stops.
Maybe it's time to go back to the hog farm. Good luck all. –Wes Memphis