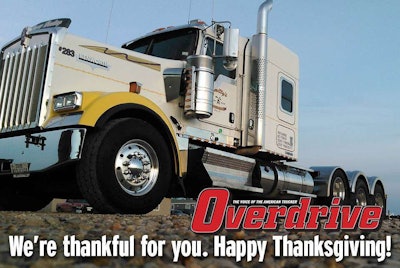 The above shot comes from the ever-expanding Reader Rigs gallery here at Overdrive, a photo uploaded in recent weeks by Brock Childress of the Smitty's Heavy Hauling KW "cleaned up and ready to roll." Thanks to Brock for the shot, and for our Art Director Ken Stubbs in Atlanta for the message added to the photo from me and the rest of team here on this fine Thanksgiving Day. Here's hoping you're able to take some time to enjoy it, wherever you are.
Last year, a majority of readers noted they were able to get home for the holidays or otherwise take time elsewhere with family and/or friends. What's your situation today?
A-and I don't know what might be in your backyard this time of year, but if you have a little backyard garden going and have grown cilantro you let go to seed in years past (and you're somewhere South of the Mason-Dixon) it's at least somewhat likely you're like me and have a crop of it coming in strong with winter-cover weeds right about now. (Actually, we just got some weather cold enough here in Nashville to bite most of it, but still have enough to contribute to a little basic slaw recipe with a twist, which follows…)
**Medium-size-to-large head cabbage (halve, cut out core and very thinly slice — don't shred)
**3 tablespoons sugar (exactness is unnecessary with this whole recipe, fyi)
**2 teaspoons salt
**Half-cup or so of cider vinegar
**3 or 4 tablespoons whole-grain mustard
**Quarter-to-half-cup mayonnaise
**Copious shakes of celery seed
**Two handfuls or so chopped cilantro
Mix, let stand (in refrigerator), stirring occasionally — goes well with any smoked/roasted meat. I eat it on with smoked pork-shoulder tacos (with a little onion/hot sauce), a lot, whenever-after I take a day off to spend 15 hours tending my little water smoker.
With Thanksgiving turkey? You bet. If you try it, let me know how it goes.
Bonus: It'll keep refrigerated a good while, like any other slaw. If you're running with a fridge, you know what to do…