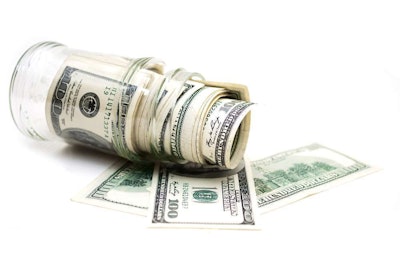 For owner-operators with negotiating power over their rates, the market is ripe for greater-than-normal success in, well, upward movement at the moment as terrible weather hampers load movement, the retail Christmas freight season is extended by e-commerce and, of course, the ELD mandate is in effect (if not being enforced in many places in the sort of hard-edged way that might put all those affected on ELDs as yet).
More on that in other prior posts, too, of course.
The reason I bring this up is twofold.
1) As shown yesterday in the weekly report from the DAT folks, the load-to-truck ratios on the boards have been sky-high the last few weeks. It's certain those ratios will fall as the many owner-operators who shut down this time of year come back onto the road, but freight post volumes, as noted, have been fairly steady, too — so there's plenty opportunity if you're working boards or directly with brokerages that utilize them.
2) Speaking of volumes, Landstar-leased owner-operator Gary Buchs shared some searches he made earlier yesterday on the company's in-house load board, too, that showed demand having grown for vans in his typical search area over even where it had been when we talked for the Overdrive Radio podcast I shared just ahead of Christmas. (We recorded that five days ahead of the ELD mandate's December 18 deadline date, fyi.)
On the Landstar board, it's common practice for freight agents in the company's network to post their freight with offer prices associated, so it's easy there to filter freight by rate per mile, with leased operators like Buchs then getting a percentage of that rate per mile that has to be taken into account when figuring out at a glance the likely rate to the truck on any load. Buchs detailed in the podcast how he took the temperature of the market by examining load counts within a 500-mile radius around his Colfax, Ill., hometown that showed gross rates of at least $3 per mile. "Six months ago," he said, he would typically see, for all dates, around 500 loads available in the area offered for at least $3.
While we talked, however, he noted around 2,000 were showing as available by that parameter. Narrowing it with a floor of $4/mile, 600 loads were showing as needing a van. "Four dollars per mile has become the new normal," he said, over the previous "three per mile in my immediate business plan."
As of yesterday, however, load availability had risen even above that in his company's freight network when he shared some search screens with me for "a little instant perspective":
Number of loads at least $3/mile: 2,869
… $4/mile: 1,127
… $5/mile: 440
We are in a freight market he believes to be "totally unpredictable" at this point, he says. "Weather, plus demand" generally, "is driving [unpredictability] through the roof."
I'll refer you back to the title of this post for the very simple message I take from all this … Stay safe (and warm) and profitable out there.