Who says truckers don't have a sense of humor on the subject of the electronic logging device mandate. When Jimmy Jordan enthusiastically endorsed a comment on Overdrive's Facebook page a day or two ago, nominating it for "best post," like, ever, I hastened to agree.
Just what he was nominating came from Richard Miller, commenting under a share of the "ELD 'panic buying'" story from two days back. Miller offered this helpful thought to those who had run out of time on ELDs:
Glue an electrical cord with a cigarette plug-in to a paper log book. Then put it on your dash. When the trooper wants to see your ELD, point to it. If the trooper has a sense of humor, you won't need bail money.
Ingenuity at work? I hope you laughed as much as I did.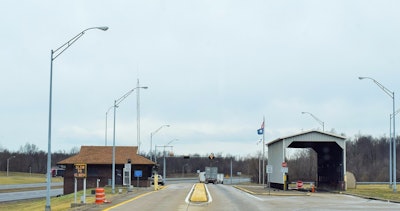 I spoke with my law enforcement neighbors to the north today. Kentucky State Police Sergeant Jason Morris says in his state, as in Tennessee and no doubt some other states (see the growing list below), state enforcement personnel won't be writing citations to truckers who are covered under the ELD mandate but don't yet have an ELD in place. Rather, in such states the violation will simply appear on the inspection report (such violations won't contribute points to CSA scores before April 1, either).
Kentucky's planning to hold off until the April 1 date, when out of service criteria relative to ELDs are set to be enforced, to begin issuing citations. Fines for violations of state-adopted federal regs in Kentucky, Morris says, are on the low side among states — $25 for a single violation plus court costs of between about $140 to as much as $170.
Commercial Vehicle Safety Alliance executive director Collin Mooney says that while his organization hasn't polled its truck-enforcement department members on the subject of citation-writing plans around ELDs, he thinks it's reasonable to suspect that pockets of states will do the same thing Kentucky and Tennessee say they're planning to. At once, "Once a regulation takes effect, it can be cited," Mooney underscores. "It doesn't surprise me, however, that some jurisdictions are deciding not to. Some may tie it to April 1, some may do one-month, two-month delays, and some may leave it entirely up to the individual inspector."
I'm beginning to build out a table of what states are doing, and I'll add names of states below that are delaying ELD-related citation-writing until April 1 as I get confirmation from them. If you've heard anything from your state, drop us a comment here or on our podcast line at 530-408-6423. Among states who don't exactly fit either of the categories below is Arizona, where Captain Brian Preston says the rule adoption is still ongoing there in state governments — thus, they wont' be writing citations/tickets at least until that goes through. Many of the states who are leaving the decision to write a ticket or not up the officer noted they expected few would actually be written before the out-of-service criteria around ELDs go into effect. For hours violations, as I alluded in the prior post, standard treatment remains in play.
States delaying ELD ticket/citation-writing until April 1:
Florida
Georgia
Illinois
Iowa
Kansas
Kentucky
Missouri
Nebraska
Nevada
New Jersey
North Dakota
Ohio
Oregon (ODOT not issuing citations, encouraging law enforcement — highway patrol, local departments — to follow along)
South Carolina
Tennessee
Texas
Wisconsin
…
States who will leave ticket/citation choice to the discretion of officer:
California
Colorado
Delaware
Idaho
Indiana
Minnesota
New Hampshire
New Mexico
Vermont
Washington
West Virginia
Wyoming