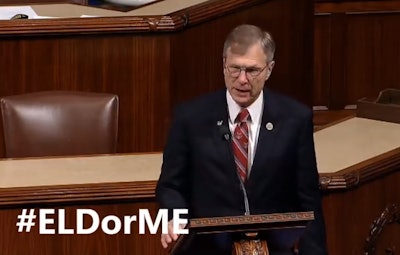 A reader sent in a note to a few of us last night with the words quoted in the headline here in all caps (and several exclamation points after it), with this, too: "Bet you won't print that one !!!"
A helpful LMFAO followed, and that was pretty much it. Asked for his/her name and maybe a little elaboration about just what money grab was being referred to exactly, the reader offered the notion that, as Phylisia Compton suggested in some form in her letter on the Channel 19 blog last week, restrictions/regulations in areas other than drivers' hours might well do more for the safety of the motoring public than those under which truckers operate, and the extra one to be added come Monday unless there's a Christmas-season miracle at this late hour (more on hopes for that below).
Specifically:
If you are going to put one faction of the industry under the gun, they may want to consider putting ALL others in the chain on the 14-hour clock. Others meaning brokers, dispatchers, shippers, receivers and truck stops that are not truck stops anymore. … profit centers stealing from the driver to be convenient to the public. Maybe some of these folks that make the rules should come outside their little box office or the marble Taj Mahal halls of the mega-carriers and take a really close look at all the situations out here… Been driving for 45 years. I believe I know what's wrong with the system."
No doubt money is being made by ELD providers, too, and I suspect the "panic buying" notion quoted from one of them in my report from yesterday about providers' efforts to keep up with demand ahead of the mandate may well have prompted the money grab notion, which is admittedly much broader than that, though. The reader is riffing on the oft-mentioned driver as cash machine trope, the human beings underlying a huge service/support industry that seems to get bigger and bigger every day while it seems to get harder and harder for many to make a good living behind the wheel.
Another potential grab was evidenced in yesterday's story as well, which quoted Captain Brandon Douglas of state law enforcement here in Tennessee noting his state truck-enforcement personnel would not in fact be writing citations with associated fines for ELD noncompliance in the first months after the mandate. (If you see evidence counter to that come Monday and thereafter, definitely be in touch. Let's hope other jurisdictions agree with his contention that citations are not appropriate as long as the rule's out of service criteria aren't being enforced and violations don't contribute to CSA scores — that is all set to begin April 1, as most of you will well know at this point.)
That's not to say, of course, other jurisdictions local and state won't issue fines, provided the mandate is actuallly codified in their laws. The official line remains that citations and fines are in fact on the table for enforcement from Monday on. Worry over this prompted TBS Factoring's Jennifer Fogg to reach out to me early this week noting her company was beginning to actually just essentially give new factoring clients One20's F-ELD (one of several no-monthly-fee-functional ELDs) as a way to help avoid such potential fines (they're structuring it as a discounted purchase, then rebate, for what it's worth).
For existing TBS clients, they're guaranteeing a buyback if the mandate "is repealed," she says, and she's not shy about her company's own dependence on the business of truckers for survival: "Our business is based on the fact that truckers are taking loads."
ELD noncompliance fines, and eventual out-of-service orders, she feels, are just as much a threat to TBS as they are to truckers.
For my money, it may be the easy pickings of certain unavoidable hours violations recorded by ELDs that represent a bigger threat, particularly under the new ELD spec (as opposed to grandfathered AOBRDs, which aren't required to display log edits at roadside, though AOBRDs are required to preserve original records after edits in the back office). For truckers using an ELD, opportunities for enforcement to cash in around hours-related infractions might even grow, despite conventional wisdom around the supposed easy pickings of paper logs. That could be taking it a little too far and of course remains to be seen as truckers and enforcement continue to get acquainted with the reality of e-logs, but generally, here's more on the subject if you missed it. Let's hope reason/cool heads prevail at the roadside.
And speaking of repeal …
Or rather delay, as it were.
Texas Rep. Brian Babin, after passing an ELD note to Trump earlier this week, was back on the House floor this morning — he shared video of brief remarks delivered that asked for Trump's DOT to issue a 90-delay ELD mandate extension for the entire industry (as has been delivered to the ag sector and short-term rental trucks), at least. The video hit Babin's Facebook page with the #ELDorMe hashtag of one of the grassroots groups of drivers protesting the mandate prominently displayed. You can see his remarks below.
Babin Asks President Trump to Stop Obama-era Trucking Mandate

Millions of American truck drivers helped elect President Donald J. Trump last November, and I am calling on him to step in and give them a hand. President Obama left office back in January, but a $2 billion dollar regulation he wrote in 2015 to require an electronic tracking device in every truck in America is still scheduled to go into effect this Monday.Let me repeat that: an OBAMA regulation that shamefully remains on the books is going into effect THIS MONDAY under a Republican Congress and White House.The U.S. Department of Transportation (DOT) can give a 90 day waiver for all truckers from this mandate, and proved it by issuing several waivers for specific industries, including one just this week. Instead of offering fairness and relief, they are picking winners and losers.Millions of American truckers are asking 24/7 for relief from this mandate using the hashtag #ELDorMe – but it has fallen on deaf ears at DOT. Mr. President, you call the shots in your administration. Please issue an executive order TODAY and instruct DOT to give ALL truckers relief from this mandate for three months. Don't implement this colossal, Obama-era mandate just a week before Christmas.

Posted by Rep. Brian Babin on Thursday, December 14, 2017