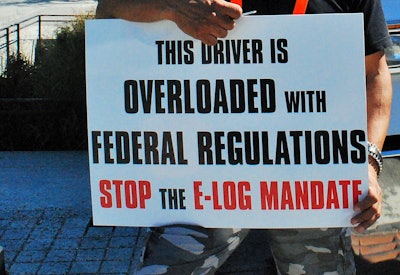 When it comes to rules and regulations, the Federal Motor Carrier Safety Administration's electronic logging device mandate may well go down in history as the most protested in FMCSA's history. The coalition of owner-operators, drivers and fleet owners that came together for the October demonstrations in Washington, D.C. and on the West Coast and elsewhere around the country added to that with anti-ELD media-outreach rallies in more than 40 states last week, as regular readers will know.
In this addition of the Overdrive Radio podcast, hear a few of those voices, likewise those among the huge number of respondents who weighed in on their plans for the mandate — some were planning to shut down, others already transitioned to ELDs and adjusting to new realities, still others expressing no small amount of angst over a rule they view as being about control more than any semblance of safety. Take a listen:
Podcast: Play in new window | Download
Bill Thompson, commenting at OverdriveOnline.com, echoed Continental Expedited Services driver Tom Harris (featured in the podcast from the Dec. 4 Nashville rally) in his contention that the safety implications of the mandate were to be an important unintended consequence overlooked by regulators. After the mandate went into effect December 18, drivers would now be virtually "controlled by a clock. You go over, you get fined," Thompson wrote. "After April 1, fined and delayed" if not running with an ELD and required to under the terms of the rule. Thompson referenced the Commercial Vehicle Safety Alliance's decision to delay enforcement of the out of service criteria related to ELDs until April Fool's Day. "Thousands upon thousands of trucks out there will be playing beat the clock. … They're out there to make money. Truckers have homes, wives and children to go home to [rather than] sit in a truck stop for 10 hours when they would have been home in an hour more of driving.
"Not to see this coming is crazy."
Judging by the sheer volume of calls to Overdrive's podcast message line in the wake of the December rallies, there are legions of operators who feel similarly about the mandate. At once, a counter-chorus was growing as the Dec. 18 enforcement date approached. That chorus' message is one evidenced by reader Richard Davis' comments. While he's a trucker who views the mandate principally to be about regulators imposing greater "control" over drivers, he was hopeful drivers would soon "get paid around the clock. … Let's hope ELDs drive the freight rates sky high. Drivers should be paid for every little thing to do with that truck from the time they leave their house. Because they are technically responsible for that truck once they leave in it. So they are always on the clock, till they are home."
Hear the bevy of other views above, and find more ELD-related coverage and insights in the business playlist below.
What does the ELD mandate have to do with the moon and Mars?
Yesterday, you may have heard the news that President Trump signed an authorization for the NASA administrator to further prioritize space exploration of the moon and, eventually, Mars. At the signing ceremony was also Texas representative Brian Babin (second from the left at the beginning of the video), who near the very end you'll see hand Trump a sheet of paper as he leaves the room.
Babin Joins President for Space Directive Signing

Pleased to join President Donald J. Trump today as he signed a new space policy directive that will refocus America's space program on human spaceflight exploration, including a return to the Moon and future mission to Mars. By signing this directive, the President has ensured America's leadership in space and put us on the verge of a new generation of American greatness and leadership in space. We are now one step closer to once again launching American astronauts on American rockets from American soil.

Posted by Rep. Brian Babin on Monday, December 11, 2017
Here's what Babin had to say about the memo he passed Trump's way, in comments under the video, posted to Babin's Facebook page: "I did speak to him about [ELDs] and also handed him a memo (as you can see in the video) outlining our concerns and a plan of action to delay it. I also spoke at length with his senior staff and they assured me they would bring it to his immediate attention."
For anti-mandate partisans, even with less than a week left, "there is always hope," as Monte Wiederhold once told me.