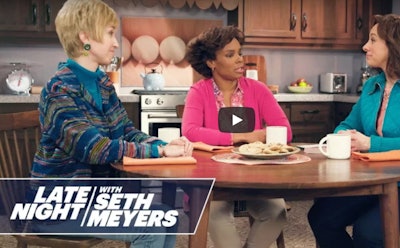 The video above from the Late Night With Seth Myers show does a pretty good job of breaking down the mind-bendingly weird world of Bitcoin (in hilarious fashion), which has been gaining of late in prominence as long-established financial institutions attempt to figure out how they can get in on what many are seeing as a hot commodity with growth potential.
In the context of a friendly neighborhood game of gin rummy, the actors here also touch on the absurdly incomprehensible jargon around the network architecture on which the online digital currency is based — called blockchain. I may have done a little more comprehensible job of explaining it in brief in the lead piece of the feature we began running here on OverdriveOnline.com this past Friday. In a nutshell, though, that architecture and the hype around it are probably ripe for the kind of satirizing that the very idea of investing in Bitcoin gets here. Reactions to the notion of automatic business-information sharing, on which most potential uses for blockchain are based, can easily diverge in similar ways, from affirmative head nods to the kind of "are you insane?" incredulity of the realist at the table.
Suffice it to say, and I did in the story, it's very early days for blockchain in trucking. Expect to hear much more about it in the years to come, and when you do, weigh any upsides from participating in a blockchain carefully against the downsides.
Oh a-and: Keep an eye out for comic potential. We're all ears….