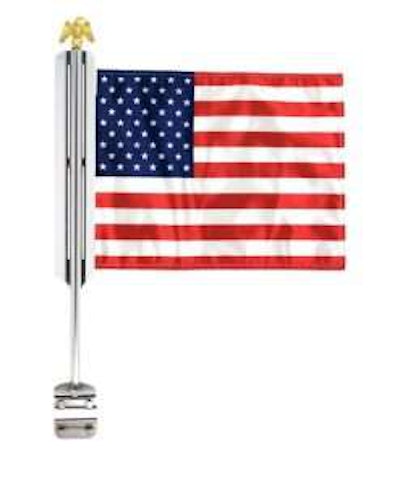 Former owner-operator and current car-haul company driver Eugene Leptien wrote in recently about a small business he's built filling a need he identified after his own attempts to show his patriotism with a mounted flag flown on the truck proved difficult.
"After 9/11," then-owner-op Leptien says he was among the scores of Americans who "put flags on their cars and trucks."
Any small flag he mounted to the truck, however, was "shredded in as few as 500 miles," he adds.
"Crap," he thought at the time. "This is going to get expensive."
He eventually acted on the need for a better way and made a mount that could shield small flags from a good deal of the violence of high-speed travel through air, but the initial designs worked perhaps too well at shielding the air. "When I got to 60 mph the flag would stick to the pole," he says, no longer waving in the air as it should.
Over the years, he's perfected the design, adding four air holes to the air shield design in order that the mount would let through "just enough air so that the flag would" fly. That design underpins his recent-history launch of the X50 Flag Mounts company as a business, which if all goes well he'll devote himself to on a full-time basis within the next couple years.
With mounts specifically designed for both trucks (on West Coast mirrors) and motorcycles (a two-piece mount, and the source for the majority of X50's orders to date), X50's truck-specific mounts are capable of holding 8-inch by 11-inch flags as well as larger 11.5″-by-15-inch options. "With the [air flow-controlling] wing design that we have now, I will get about 50,000 miles out of a set of flags" on the truck he drives (pictured above, a breast-cancer-awareness rig owned by the Countryside Auto Transport company). "I run an 8″-by-11″ flag and a smaller POW flag underneath it."
The truck-specific mounts are a single-piece mount, extruded from aluminum here in the United States. "It's made for anything you can throw at it," Leptien says, whether "100-mph winds, rain, everything." Leptien says he's been working on a patent for his flag-mount design "for the last six years," and it's finally in place as of 2017.
The 15-inch flags will show wear a little more quickly than smaller versions, he adds. The mounts attach with a 2/8s-inch bolt "on basically any antenna mount, but we do include a stainless mounting bracket that is adjustable. It turns so you can have the flagpole straight up and down."
Trucking now for 36 years, 56-year-old Leptien jokes that you might think of the effort as "another thing that a truck driver came up with trying to get away from that ELD."
Find more about the company's truck-mount and other flag options via this link.