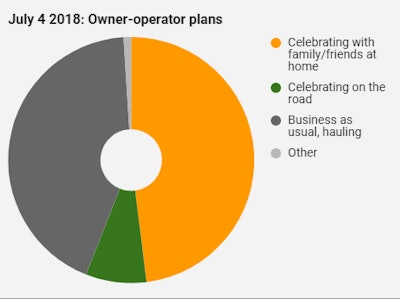 Owner-ops' plans for the Fourth
Results above are as of this morning from a poll we ran beginning Tuesday morning, offering opportunity (as we often have) for owner-ops to share plans around the holiday, an opportunity that with other holidays invariably reveals a reality about the 24/7 business of trucking. Of a similar fashion, about half of readers reported they won't be home this week in order to celebrate with family and friends but rather will be doing what they do, out on the road hauling and keeping the freight that supplies all those parties, those bbqs, those fireworks shows and camp-outs and festivals, going strong.
The National Weather Service issued a Special Weather Statement yesterday here in the Nashville, Tenn., region for expected heat tomorrow — it may well have been similar to one issued in your area, but if you treat such alerts as I typically treat them (a quick scan for information of use) you missed a bit of history atypical to a weather statement. Something about the historical beginning of the statement, noting the typical temp averages for the Fourth in the Nashville area, caught my attention and kept me reading on.
This is how the Weather Statement ended, and yes in typical alert all-caps:
YOU CAN BE THANKFUL WE LIVE IN AN AGE WHEN STAYING HEALTHY AND MAKING ADJUSTMENTS TO OUR LIFESTYLE ARE RELATIVELY EASY. THIS WAS NOT THE CASE AT VALLEY FORGE, BACK IN THE WINTER OF 1777 AND 1778, WHEN THE RAGTAG REVOLUTIONARY ARMY, UNDER GENERAL GEORGE WASHINGTON, WAS POORLY DRESSED FOR THE WEATHER THEY FACED. IT IS ESTIMATED THAT AT LEAST A THIRD OF THE SOLDIERS AT THAT ENCAMPMENT HAD NO SHOES, AND WRAPPED THEIR FEET IN RAGS AS PROTECTION AGAINST THE HARSH TEMPERATURES AND THE COLD, MUDDY SOIL. WASHINGTON ONCE WROTE, "YOU MIGHT HAVE TRACKED THE ARMY … TO VALLEY FORGE BY THE BLOOD OF THEIR FEET." IN VALLEY FORGE, THEY HAD NO SOCIAL MEDIA, THEY HAD NO TV OR RADIO. UNLIKE THOSE OF US TODAY, THEY HAD LITTLE OPPORTUNITY TO TAKE THE PRECAUTIONS NEEDED TO PROTECT THEIR HEALTH. NO EXTRA COATS. NO LEISURELY GRILLED DINNER TO BE ENJOYED IN A RESTFUL CLIMATE CONTROLLED ENVIRONMENT. MANY DIED, BUT MANY ALSO ENDURED TO PAVE THE WAY TO THE INDEPENDENT DAY WE CELEBRATE THIS WEEK….
Loquacious for a weather statement, eh? Nonetheless, a welcome interruption to the day.
Longtime owner-operator Gordon Alkire, too, sent along a bit of meditation on the flag I thought I'd share today. Alkire has long been vocal about proper protocols for displaying the flag, and as he rightly notes, too, celebrating the Fourth and truly appreciating the relative peace in freedoms that we all have here is about more than holding up the flag as a totem, of course.
"It is not the size of the flag that you display that makes you a patriot," Alkire notes. "It is what is in your heart that makes you a patriot."
Here's Alkire's meditation on his feelings about the red, white and blue:
We as Americans salute the flag, some with respect, some by properly displaying it. All by protecting it as most of us were taught as youngsters.
Our Flag has stood watch over our fallen that were defending freedoms of the weak and oppressed. Our flag has come home from battle battered and tired but never down and out.
Our flag has been witness to rage, hate and suffering, but has stood its ground proudly.
Our Flag has never faltered. Our flag has continued to stand strong,
Our flag has been a blanket for the fallen on their final ride home, it has covered them with her love to their final resting place.
Our flag never forgets.
We as Americans are proud of our flag. We will defend it to the death if we have to. We will not hesitate to protect it and what it stands for.
Our flag is not racist. Our flag is not Democrat or Republican. Our flag is not a symbol of war but the wars fought for freedom, safety and honor.
The American flag is not a symbol of hate, oppression, or favoritism.
Our Red White and Blue is a symbol of unity.
A reminder of those who stood and died for it. A symbol of freedom we all share in America because our flag has never faltered. –Gordon Alkire, Kansas