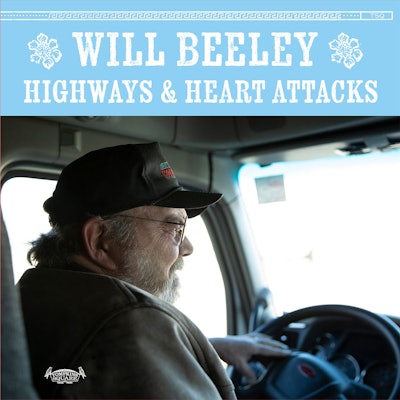 Regular readers might recall the brief item I shared a couple weeks back highlighting my Truckers News colleague David Hollis' interview with Will Beeley, back in a recording studio after some decades outside of one and inside the cab and behind the wheel of a Class 8. Beeley was featured this weekend in an interview with Scott Simon on NPR's Weekend Edition, a high-profile spot for the songwriter, and well-deserved.
Simon in particular highlighted Beeley's song about the struggles of so many in America today, the track's title the one highlighted in the headline of this post. Hear their talk in full via this link:
And you can run through the song in full and a few tracks from Beeley's new "Highways and Heart Attacks" record via the in-process version of a "Music to Truck By" playlist version via Spotify, rather than the long-running SoundCloud list we've curated — just started building that out and plan to fill it with classics and sounds from today's trucking songwriters, who dominate it at present. Some favorites from our own "Long Haul Paul" Marhoefer, the great Tony Justice, last year's Trucker Talent Search winner Mandi Jo Pinheiro, past winner Jason Lee Wilson — about all that's there, plus a few classics, for now. Send recommendations this way, and meantime I'll keep working on building it as the time allows.
Have a listen. Congrats to Beeley on the new record, again.
Speaking of Spotify, tip of the hat to colleague Marlin Caddell for referring me to a bit of news that came down from The Verge tech-news site last month. If you're a regular Spotify user for music and/or news on the road, the Verge piece highlighted a new "Your Daily Drive" playlist available to U.S. users that mixes news bits from NPR, Public Radio International, and the Wall Street Journal's podcast content between selected music tailored to individual listeners, mimicking traditional radio, to a degree. Read more about it via this link. Here's the basics, as wrote Ashley Carman at The Verge:
Spotify's launching a new playlist called Your Daily Drive that will incorporate news podcasts. Starting today, US users will be able to listen to music they already enjoy, alongside new music recommendations, with some news podcast content sprinkled in. Anyone can access the playlist, regardless of whether they're driving.
The Wall Street Journal, NPR, and Public Radio International will provide the news audio clips. News and music will update throughout the day, unlike the platform's other popular playlists. For instance, Discover Weekly only updates once a week, and other personalized playlists like Your Daily Mix only update once a day.