The California Trucking Association's case in a federal district court in the state is intended to challenge use of the so-called "ABC test" by California agencies in determining the validity of carriers' independent contractor agreements with owner-ops there. As has been covered in Overdrive in depth this year, the ABC test, solidified for use in the case involving Dynamex light-duty-vehicle independent contractors, is problematic for trucking in that it would seem to disallow any independent contractor designation for a worker engaged in the same principal business as the company doing the contracting.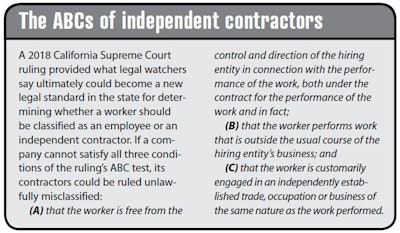 The CTA's case, filed in federal district court in the Southern District of California v. the state's attorney general, with the Teamster's Union as an intervenor defendant, has been stayed as of last week, pending the outcome of a similar case already at the Ninth Circuit Court of Appeals.
That case, brought by the Western States Trucking Association for similar purposes of arguing against application of the simple ABC test to independent contractor owner-operators in trucking, received an adverse ruling this past Spring in the federal district court in Sacramento. WSTA representative and former owner-op Joe Rajkovacz says the stay of the CTA case, which had been filed a few months after the WSTA suit in 2018, "likely means their case won't move forward unless the Ninth issues a favorable decision on our appeal," given the appeals court has jurisdiction over both courts.
In the event of an adverse ruling, as he's said before, Rajkovacz says "you can take it to the bank we'd appeal to the Supreme Court …, especially in light of the decision in the First [Circuit Court of Appeals] preempting Massachusetts' ABC test as related to trucking."
I wrote a little about that Massachusetts decision, which Rajkovacz and others view as making good arguments for other cases in other districts where the ABC test is rearing its head, at this link. "Can't have Americans living under two separate laws," he says, adding that "conflicts between circuits are the No. 1 way the Supremes decide to take up a case."
Should an adverse ruling by the Ninth Circuit eventuate for the WSTA case, the traditional owner-op lease arrangement may find its way to consideration by the Supreme Court to put the matter finally to rest, Rajkovacz believes.
Potential complications: the bill the California state legislature is considering that would codify the ABC test in law, regardless of court outcomes.
For further reading/listening on the Dynamex dilemma out West follow these links to news, features and the Overdrive Radio podcast: