I'll see some of you as early as tomorrow evening out in the TA Petro Parking Community, i.e. the truck-parking area off-site at the Great American Trucking Show in Dallas (3013 S. Haskell Ave.), where Arkansas-based small fleet owner Les Willis and scads of other professional truckers and support folks will be getting ready for a myriad of happenings there. Those include scads of music Thursday, Friday and Saturday nights, charity auctions benefiting the St. Christopher Truckers Fund as in past years, and more. It's another St. Christopher benefit that's got my attention today, after a call yesterday with Willis: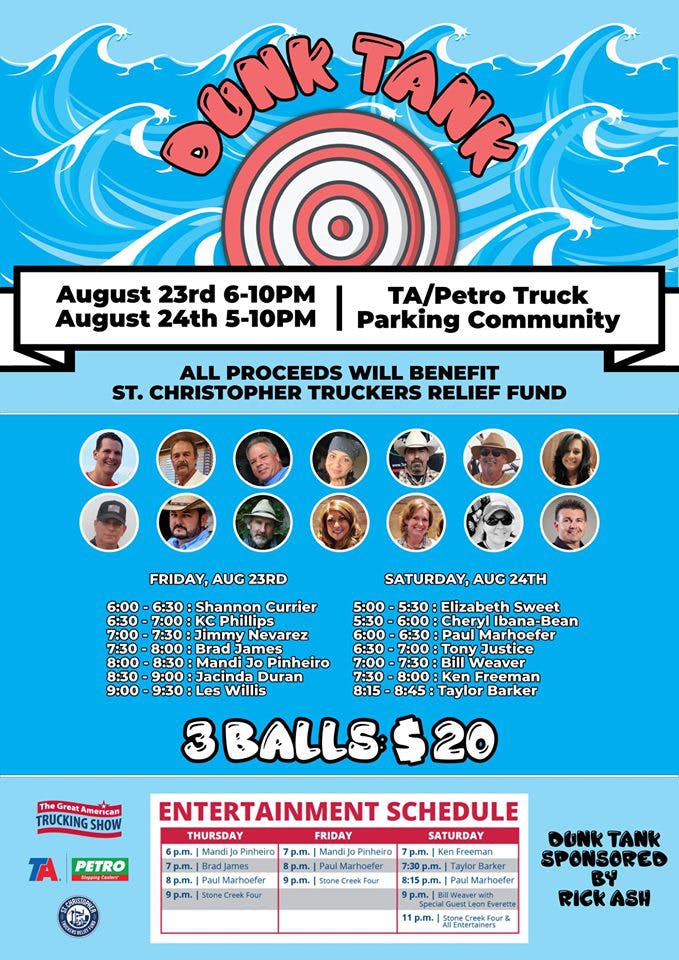 Keep the Friday, 9 p.m., time in your mind if you want an opportunity to send Willis himself into the frigid waters of the dunk tank — in exchange for your donation to the St. Christopher fund. Better yet, take your pick from among a myriad of some familiar faces among the community of drivers and owner-operators, from near every trucker-songwriter participating in parking-stage entertainment (the 6-8 p.m. hours Saturday evening look particularly promising) and others.
If you're arriving tomorrow (Wednesday) evening, too, I'll be at the lot from around 7 p.m. hopeful to stage some Q&As over the radio if you've got your CB on and have the time. Call it a "CB Summit," if you will.
It's part of the project I've mentioned in past on the blog that is intended in part to build a little bridge between the trucking community and the general public. We've collected some particular questions from the uninitiated about trucking — we'd love to get answers from you, over the radio, as it were. If you're going to be around the parking lot Wednesday evening, ping me at my email (tdills@randallreilly.com) or just give me a call direct (205-907-2481) and we'll try to coordinate.
Otherwise, keep tuned to the site here for everything from the show throughout the week — if you're there in person, hope to see you soon!