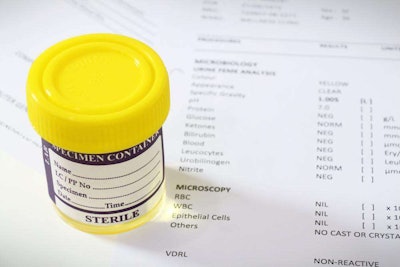 There's a veritable industry growing up around Cannibidiol, or CBD, a derivative of hemp and cannabis plants proving effective for pain relief in a variety of ways. According to reporting by Todd Dykes out of Hamilton, Ohio, trucker Mike Harris had been using CBD oil for knee pain relief since last fall to great effect until recently.
The 20-plus-year veteran owner-op Harris told Dykes he failed a random drug screen that came back positive for marijuana — he attributes it to use of the substance, putting his career in jeopardy for the short-term. Two follow-up tests, after he stopped using the oil for his knee pain, both were negative, and it's got him and certainly others asking questions about provider messaging about CBD and drug tests, required for drivers in pre-employment situations, post-accident and at random intervals.
A positive can be a death knell for any chance of employment and a driver's CDL.
As Harris noted, the provider he purchased CBD from assured him that it wouldn't put him in this very position, and some watchers have suggested in prior Overdrive reporting that CBD alone shouldn't trigger a false positive for THC, the psychoactive compound in marijuana tests are typically aimed at detecting. "CBD is not an explanation for a marijuana-positive result," HireRight Chief Medical Officer Todd Simo said in a TCA-produced webinar in May of this year.
Except that it might be, depending on the purity of the product. That's according to reporting around preliminary results of a study conducted out in Utah on a variety of hemp- and/or cannabis-derived compounds aimed at sussing out how common urine drug tests interact with them. Early study results were presented at a recent meeting of the American Association of Clinical Chemistry, elucidating a finding that urine spiked with pure CBD oil did not produce test results that would indicate a marijuana false-positive. However, the lesser-known CBN compound did produce such results, even at low levels. CBN has been touted by some as a potential sleep aid/sedative.
The rub for users of CBD is in the purity of the products they're buying and using. "In the real world," as wrote Amy Norton in this HealthDay report, "CBD products are largely unregulated and may contain other compounds due to processing."
Norton's report also emphasized that the study's tests were initial-screen immunoassays, which are typically confirmed with in-lab analysis that can isolate compounds more clearly.
In trucker Mike Harris's case, follow-up tests came back negative. But he questions his own provider's confidence in an unequivocal belief that the product wouldn't provide drug-testing complexity for him. As his hauling partner, Debbie Martin, told reporter Todd Dykes: "They guaranteed, guaranteed that we wouldn't have an issue."
Norton also emphasized a 2017 study that analyzed a variety of CBD products, finding one in five contained not the CBN compound that might trigger a false-positive immunoassay, but THC itself.
If you have any doubt about the purity of what you're using — the FDA has approved just a single pure-CBD-containing drug for use treating severe seizures — the safe choice may be to steer clear.