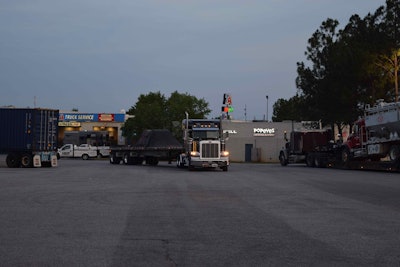 Recent polling here at OverdriveOnline.com surveyed owner-operators' actual use of paid parking-reservation systems, which have risen from truck stops and others in recent years as parking spaces have increasingly acquired a new luster and technology has made self-service reservations a reality. As reported in our close look at the phenomenon last year, the electronic logging device mandate seemed to add significantly to the luster.
The same might be said of boosted federal and state attention to the parking issue in recent years, as states like Texas, as recently reported, and so many others respond to federal priorities' raising of the stakes on the issue by studying what they can do to help address parking shortages. As planning continues at state levels, meanwhile, existing spots in particularly congested areas more and more often seem to come at a price premium.
While there's a definite planning benefit to paid reservations that can serve to minimize time wasted hunting out a space in an unfamiliar or congested area, a relative few readers seem to actually use reservations to that effect.
Those who at least semi-regularly (a couple times a month or more frequently) paid for the privilege of reserving a space comprised just about 1 in every four poll respondents (24%), while more than a third (35%) reported very seldom reservations or use of such systems only as a last resort, "if there are no other options when I arrive." Full results of the poll follow:
How often do you pay for the privilege of reserving a parking space?
The largest share of any choice in the poll was the carte blanche "Never" choice, selected by 41% of owner-operators and reflected in the commentary of several. A reader posting as "Tam" noted, for instance, that "I am against paid parking," period. "Truck stops in general are expensive, and after fuel and food I am spending $500-plus on average at each stop. I commend Love's for not jumping on the bandwagon with reserved spots."
Earl Harris, responding to this kind of commentary and a note in particular that deemed paid-parking nothing more than a "ripoff," pointed to the value he sees in reservations. While he agreed with commenter James Rogers among others on the notion that "prices for goods at truck stops" can be "excessive," he emphasized paid reservations as "a convenience. But like all businesses, [truck stops] are in business to provide a needed service and make a profit. I don't give away my services as an owner-operator, nor do I expect truck stops to give away their services. If you don't like the prices on retail goods, don't buy. Don't like the fuel prices, shop around or get a better fuel card."
At once, other readers, while appreciating the intent of paid reservations, pointed to flaws that approach given frequent operational difficulties and imposed regulatory constraints that made reservations' utility not as useful as desired. "In most urban areas the pay spots are the only ones available, and many times they are already sold," wrote a reader posting as "TruckerJohn."
"Reserving ahead of time," John continued, can be "difficult for me because I don't always know how long shippers/receivers will take to load/unload. I run in many metropolitan areas where traffic can also cause a problem. Many times I'll run out of hours before I reach the place I've reserved a spot."