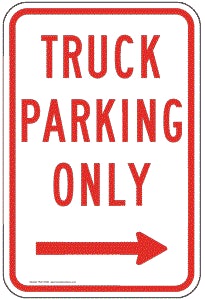 Products aimed at assisting truckers in parking advocacy with Metropolitan Planning Organizations (MPOs) and other entities are now available in new formats from the National Coalition on Truck Parking. Scott Grenerth of Truck Specialized Parking Services headed up the working group within the Coalition that is dedicated to State, Regional and Local Government Coordination, which produced these particular resource materials.
They were, he notes, recently published in formats much more accessible than what was available when Overdrive first reported on the output.
Also available at the website for the National Coalition are resource materials produced by three other working groups on Parking Capacity, Technology and Data, and Funding, Finance and Regulations. Find them all via this link. 
Grenerth notes zoning issues will be central to ongoing work this year in his government-coordination group. He cites examples where misguided zoning makes for big obstacles to increasing truck parking capacity. "In Atlanta, west side of town," for instance, "the entire western half of a county is zoned to not have truck parking."
Closer to home for him in Cincinnati, too, a zoning rule requires "any truck parking to be paved — that's important, because now the cost of any parking project just went up exponentially," he says. "We want to reach zoning and planning people, so that they keep this in the back of their minds" when writing local rules.
Drivers who get involved, he believes, can sow seeds in planners' minds that could bear fruit years or even decades from now, if they don't have an immediate effect. Drivers "are the experts all across the country," he says, not just on their home regions. When Grenerth was an owner-operator, "In my case, I was also an expert in Nashville," a frequent destination for him where parking needs were great, though he lived three states away.
Truckers often see clearly the needs not where they live but "where you truck to," he adds.