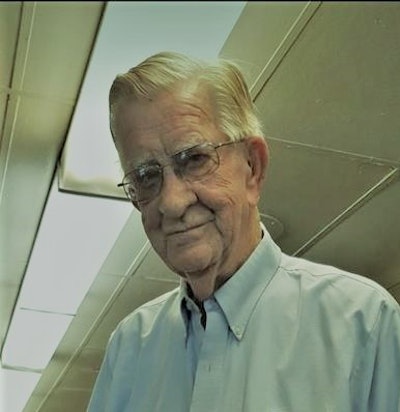 Robert Eugene "Bob" Walser Sr., 86, of S. NC Highway 150, passed away Saturday, October 12, at his home. Walser owned and operated Bill's Truck Stop in Linwood, N.C., at I-85 exit 86, for 60 years.
A funeral service will be held at 1 p.m. Tuesday, October 15, at Churchland Baptist Church in Linwood by the Revs. David Robinson and Max Shoaf. Burial will follow at Forest Hill Memorial Park. The family will receive friends from 5-8 p.m. today, Monday, October 14, at Davidson Funeral Home.
We were alerted to his passing by a reader appreciative of Bob Walser's generosity and longtime presence at the truck stop through the many years he operated the place. "A real gentleman and a truck driver's friend," said R. Dwayne Fitzgerald of Dwaynerox Transport, Martin, Georgia. "Bob was usually always sitting at the same table in the restaurant there, never far away from a cup of coffee, and it seemed he knew everybody that walked through the doors. It was just like home to me.
"We will miss you, Mr. Bob. Prayers to the family."
Haulers running north and east from Charlotte along I-85 will know Bill's Truck Stop, too, for what Fitzgerald called this "75-foot-tall waving 'Bill'" out by the road:
The Bill's Truck Stop Facebook page is active with sharing daily specials from its well-known restaurant, should you be coming through the area and curious what's on offer there.
Walser was born April 6, 1933, in Davidson County in North Carolina to George Oscar Walser, Sr. and Mamie Laura Jenkins Walser. He was preceded in death by his sons Gene Walser and Jerry Walser; his brothers George Walser, Ray Walser and Bill Walser; his step-brother, Odell Walser; his sisters Viola Darr, Edith "Bid" Shoaf, Etta Allen, Gladys Childress, Tunie Jones and Lucille Brooks; and the mother of his children, Frankie Wilson Walser.
He is survived by his son, Johnny Walser of Linwood; his daughters Sherry Freeman and Connie Walser of Linwood and Judy Maxwell of Lexington; 28 grandchildren and great-grandchildren; and his friend and caretaker, Darlene Taylor, among many other friends and the extended family at Bill's Truck Stop.
In lieu of flowers, memorials should be made to the charity of the donor's choice, the family requests.