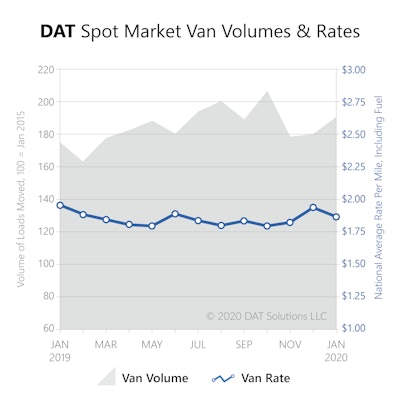 DAT noted in its monthly wrap-up for the first month of the year on the spot market that, for every January but one over the past 10 years, spot rates have declined in the dead-of-winter month, for every segment. That said, after a December that appeared somewhat promising for haulers, the downward push has been no doubt disheartening for plenty owner-ops in efforts to improve negotiating positions with this or that broker. To top that off, at the chart above notes, freight volumes (at least for vans) were up, certainly over the last two months of the year, in any case. Rates? No way.
Today on the Channel 19 blog, a guest — reader Jeffery Hanson, owner-operator out of Texas. Hanson argues hard that these kinds of dynamics have persisted for much longer than many realize, with too many brokers' unrealistic fishing for a losing rate over the long-term akin to participation in a strategy that will ultimately bankrupt independents — and themselves, too.
Following, find Hanson's considered thoughts.
Sub-$1/mile broker rates are putting the independent truck drivers out of business. How many went out of business last year? The year before that? How many will make it through this year?
Used truck sales lots are at capacity. No one is buying used trucks, because they can't afford to get into the game.
I've heard people talk about overall capacity having stayed the same over these difficult times. When full employment still allows the large companies to hire all the drivers they want and drive freight rates down below a dollar, it will not be long until all of the independent truck drivers give up and go out of business. They get replaced with company drivers at these large companies, or they go lease to them out of necessity themselves, and thus, yep, capacity does stay the same.
I have a $1.68-per-mile cost of operation. Think of it, I need to pull $1.68 per mile just to break even, and there are brokers out here posting 550-mile loads with a $500 offer rate. Who are they kidding? How does an owner-operator pay for fuel and keep a truck maintained when they want us to pay them to haul their freight? This is the story, from sea to shining sea. It must change, or only the large companies will move freight.
And do you know what happens when there is no or too little competition?
Since 2016, the brokers have been putting the bootheel on their golden goose's throat. I use to haul Dallas to Houston for $750 every day. Then $650, then $500 and now brokers post loads for $350, barely $1/mile, on that lane. You can not run your company right, take care of your equipment, buy fuel, pay yourself and accept that. Not for long, you can't. I have not taken a paycheck since 2013 thinking that I was paying off debt and investing in my future. My credit is exhausted, and I am, too.
We have a saying here that brokers who would take advantage of inexperience and/or desperation out here would do well to heed. If you eat all your cattle, you're no longer a rancher, just a landowner.
When they put the independent truck driver out of business and only the big companies are left, these two things will happen:
There will be no need for all those independent brokers, as all those companies have big internal 3PLs or brokerages; the independent brokers will be next to go.
Freight rates will go through the roof.
The spot market today is being exploited by brokers who see clearly the desperation of carriers. I do not blame China, eCommerce, or anything else. It is brokers killing and eating their cattle. For those brokers, it's tossing a peanut shell into the cage of a starving patriot. The starving man will eat it. But he does not realize he is almost dead, just that he is hungry. Only desperation scoops up 90 cent per mile freight like it is a peanut, when it is no more than a shell.
It won't last as long as brokers might think before it comes for them, too.
As for us, the ability to say no to cheap freight is the only defense available. –Jeffery Hanson