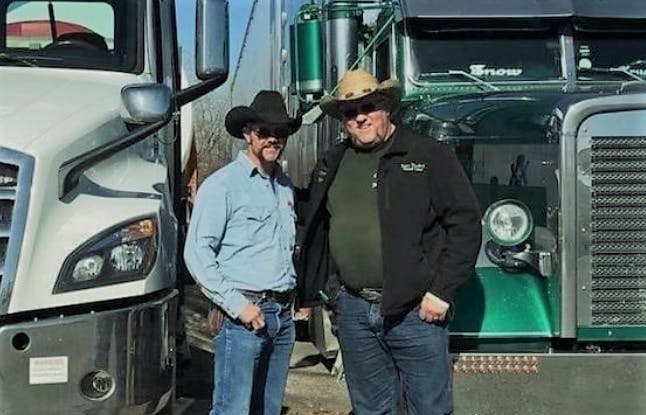 There's a detail of the life of over-the-road trucker Jeremy Brannan you may well recall if you're a regular reader of this blog, though you may not know you know it, as it were. Brannan is a dear friend of Daniel "Doc" and Phyllis "Tinkerbell" Snow, owner-operators of the well-known "Goose" Freightliner whose tough mid-rates-dive decision-making was chronicled in early May. Then, they'd shut down to wait for the spot market, where they operate, to come back to life. Fortunately, pricing for freight from the brokers they work with had crept up enough to justify a trip this week.
When we talked Tuesday morning, Phyllis said they were on their second load since we last talked in May. They were bound for Illinois, and a third load was already booked for a return closer to where they live in Arkansas. They'd received $2,000 worth for the Snow Trucking business through the Economic Injury Disaster Loan advance program to help through through nearly two months' worth of downtime, and Phyllis was hopeful rates continued to improve.
As for Brannan, you may recall him from my coverage of the Snows' participation in the 2018 Guilty by Association Truck Show in Joplin, Mo., where the Snows showed off a gift from Brannan and his son, Colton, of a couple of matching insulated coffee cups emblazoned with the Snows' handles.
This past week, Brannan was helping out with a family cattle operation, atop a horse that threw him. His subsequent hospital stay revealed a collapsed lung has required something of an extended stay. The last Phyllis talked with him on Monday, he remained in the hospital, she said, and the Snows were moved to assist in any way they could in spite of their own business' late difficulties. They've launched a GoFundMe effort for anyone who feels moved to contribute to help defray Brannan's medical bills and help support him during his subsequent recovery.
Says Daniel, "As giving a young man as he is, it was pretty much a no-brainer to try to help him."
Here we go again: Already out-of-control insurance costs could rise further?
Despite the question mark, the first here we go again part of that subhead isn't exactly a question, given hikes in the minimum-required liability insurance for carriers have been floated at the legislative level time and again over the last decade, ranging from somewhat "modest" (if we can call more than doubling modest) increases like the hike to $2 million added to the draft version of a highway bill in the House last week to a figure approaching $5 million in past legislation that more or less went nowhere.
On the regs front, FMCSA made moves in the past toward raising the current $750K minimum to a figure nearing $2 million with an advance notice of proposed rulemaking that it ultimately did not take to an actual proposed rule.
Now, though, is a particularly onerous time for Congressional reps to pile a new cost on small carriers, including independents, given the extremity of turbulence in freight markets this year and the well-documented difficulty for many just making a profit on hauls. This particular legislative hike will surely see opposition, as Kenny M. Wilson, commenting under the news last week, made clear. "It's time to take a stand and let these out-of-touch government officials know [that] truckers' lives matter," he wrote. "Please, truckers, let your voices be heard. Reach out to your state officials, and let them know that they work for you and should have your interest as their top priority."
It's sure legislators will hear from plenty. At once, though, some voices cut against the grain of out-and-out opposition with practical perspectives after consulting with those in the trucking insurance business, such as a commenter posting as "Old Timer," who believed an increase from his current $1 million liability policy to $2 million wouldn't create "any issues spread over the year, if it is mandated," he wrote. "I have my own shipping customers also and have spoken with them now. They all understand and will expect a slight increase to cover the additional insurance. Again, if it is mandated."
Generally, doubling a covered amount in an insurance policy for truckers is on a percentage basis going to be more dramatic for smaller fleets with less of a history behind them. Regular readers will recall my estimate of a hike of 25 percent in premiums for such a doubling years ago, when the FMCSA was looking into potentially raising the minimum via rulemaking. I checked back with one of the principal sources of that rough estimation this week. It's still in the ballpark, he said, with the typical caveats that a lot in insurance depends on the geography, business/driving history, size of the business and more.
For relatively new owner-operators who've got into the game in recent years, the hike would likely mean much more than for folks like "Old Timer," something he called out himself: "I can understand if you are just getting your start, using brokers and barely getting by, this could be the nail in the coffin for you. But if you never got away from brokers, you now understand one more reason to not rely on the spot market freight. … Not knocking you if you do the spot market thing. If you have done it for any amount of time you understand the ups and the inevitable downs. It's just too risky for me. I will stick to my contracts with my own shippers and leave everyone else's grubby hands out of the mix."
If you've talked to your insurer and/or customers about this, what might be the ultimate result from a hike to $2 million. Again, as "Old Timer" said, if it is mandated?
We'll have further reporting on the insurance market — it's changed quite a lot since we last polled readers on premium costs, though from talking with so many of you I know costs have risen substantially in the aggregate over the last five years. Where do you sit today when it comes to premiums? Weigh in via the poll below if you're a non-hazmat carrier: