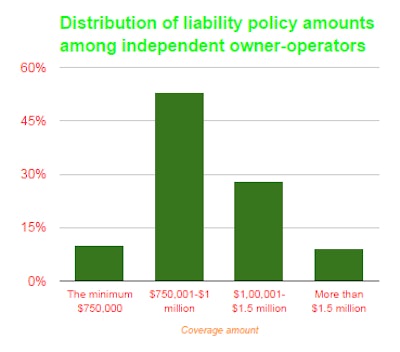 Following the last regulatory update with news about the liability-insurance-minimum hike FMCSA's got well under way, I queried the blog's audience here relative to what you were paying today for liability insurance. With many owner-operators packaging both cargo and other insurances, too, with liability, it's hard to get a 100 percent accurate bead on an average figure for premium costs today.
We also, of course, don't yet know what the proposed hike will be, but FMCSA's been citing $1.62 million as accounting for inflation since the $750,000 current minimum was introduced in the 1980s — if that's the ultimate figure, it would represent a more than twofold increase in the coverage amount required at a minimum, and some groups have called for a higher amount, as much as $4 million.
$4 MILLION?
Actually, the figure is $4,422,000, included in the so-called "SAFE-HAUL" Act, introduced earlier this year in the House following a study by a group of large carriers called the Trucking Alliance that called for much greater insurance minimums.
Under my prior reporting two weeks back on the liability insurance issue, a small fleet owner posting as Semper Fi noted he currently carried $2 million worth in liability (packaged with 100K in cargo insurance, and with a $2.5K deductible) for $550 a month per truck. "The larger issue here," the commenter said, "is that the minimum car insurance won't cover damage done to my trucks if it was their fault. I have to cover what their insurance won't. The minimum car liability needs to be raised."
And: "Another issue that will come up is the larger companies are self-insured at a much lower cost per unit. I feel this gives them an unfair advantage in the overall picture of operating my business…. This will be mentioned in the comment period for these proposed changes."
The Owner-Operator Independent Drivers Association commended the administration on a provision in its dead-in-the-water "Grow America Act" highway-bill draft earlier this year that would have eliminated "the self-insurance option for motor carriers," as an OOIDA statement at the time noted. "This option allows the biggest and most profitable motor carriers to avoid buying insurance on the open market where prices are based upon risk, unlike the majority of the trucking industry which is made up of small businesses."
Assuming the inflation-adjusted figure, plus a little more, will be the amount, I've got somewhat decent (at least) news to report, via perspective on what such a hike would represent in terms of premium increases. I spoke with Steve Libertore of National Risk Management Services — he specializes in trucking companies with 1-15 trucks in 37 states. "We're based in Ohio," Libertore says, and "we stay out of the Northeast," more or less, in terms of states where they don't operate for carriers with authority.
Put quite simply, he says, to throw another "million on top of [an existing $1 million in liability coverage], I can typically get around another 1,000 [to 1,300] dollars [in annual premiums]. I don't think that will be too hard on the small guy."
Agreed?
In percentage terms, he translated that to around a 25 percent hike in the premium rate, far from a doubling. Results of the polling on existing coverage amounts for the independents among you showed 8 in 10 independent businesses falling in the above-minimum-required range between $750,001 and $1.5 million — and several commenters, as I'd noted in this post as well from past coverage of the liability insurance market, referenced $1 million in liability coverage as their current amount.
The $1,000 figure, Libertore notes, is in the low range and may slightly underestimate the cost of liability for current, established owner-operators. Liability premium costs cited in my recent conversations with various and sundry of you out there tend to be in the $5K-$8K range. A premium increase of 25 percent for that range would be $1,250-$2,000 annually.
Libertore did make note of the chilling effect added insurance costs could have on new owner-operator businesses. Premiums there are in many cases upward of $10,000 annually for liability — and have been rising. If the same 25 percent increase applied to such business, that's $2,500 or more on top, of course.
Note Joe G.'s comment under my prior reporting on the subject: "In late 2012 I closed shop and I had $1 million liability and $100K cargo. It was about $7K" altogether, he noted. Thinking about starting back up, "two months ago I got a quote and it was $12,300 a year…."
Also: "When I went out it had just jumped $220 a month higher with no claims or tickets," too, he added.
"If the percentages are the same," noted Libertore on his 25 percent estimate, "It's going to be really expensive for the new guy. He might have close to a $20,000 policy."
Not so long ago, you might have bought a decent though well-used truck for that amount, eh?
In reporting over on Overdrive's sister CCJ site by Kevin Jones, Transportation Intermediaries Association president Robert Voltmann, speaking to shippers and brokers primarily, noted the further overall industry capacity reductions that could well result from a undue hike in insurance: "It may sound good on paper, but there's talk of raising it as high as $4 million… If it's anything more than a million and a quarter, capacity will be reduced."
Right now, says Libertore, "there's not enough trucks out there for all the freight. If guys can't get the revenue to justify the costs, there will be more and more trucks at the used-truck dealership."
There's good and bad with everything, though. Libertore noted increased rates coming to owner-operators, small fleets and larger carriers alike. "I hope it lasts…. For guys getting their own authority, the pricing has gone up dramatically in the last nine months [already]. I hope rates stay [higher] in the next two-three years so the premiums can come down to where they should be." By the third year in business, he noted, the established business typically will "see a dramatic decrease in premiums."
How's this for a digital highway message?
Ye four-wheelers, take heed! (And thanks to Iowa DOT — you can grab their construction/traffic updates and more via the @statewideia511 Twitter feed.)
These Iowa DOT message boards are turning heads: https://t.co/UiQKvtyNH1 pic.twitter.com/Rr4vEsqjw4

— KCCI News (@KCCINews) September 29, 2014