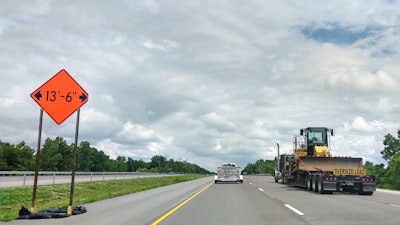 Lawmakers on the U.S. House Committee on Transportation and Infrastructure voted Wednesday to keep a provision in the proposed INVEST in America highway funding bill that would increase liability insurance minimums for trucking companies from $750,000 to $2 million.
Among a raft of amendments proposed to the initial bill draft to be voted on during Wednesday's 19-hour marathon committee markup session was Illinois Rep. Mike Bost's proposal to strike the liability insurance increase from the bill. The amendment was first struck down by a voice vote and later not agreed to in a roll call vote with 38 votes against the amendment and 30 for it.
Bost called the hike "ridiculous," "unnecessary and arbitrary," citing past analyses that showed claims exceeded the current minimum $750,000 policy limits in fewer than 1% of truck-involved crashes. Bost believed added costs, particularly in the current high-cost insurance market, felt most by new owner-operator businesses, would unnecessarily punish those with the least power to pass on those costs.
Several House T&I members rose in support of Bost's amendment, including Rep. Garret Graves of Louisiana, who called the original proposal a "solution in search of a problem" that would "price out small truckers for being able to do their job and earn their livelihood," adding to current inflationary pressures as well, he said.
It's particularly onerous, said Rep. Troy Balderson of Ohio, given what he felt was a better course of action for the Congress, to "support our truckers as they've supported us through this pandemic."
In all, 10 committee members rose in vocal support of the Bost amendment. Bost's Illinois colleague, Rep. Jesus "Chuy" Garcia, also an introducing sponsor of an insurance-hike bill that pushed the envelope even farther, was among just three committee members who expressed vocal opposition to the amendment during the markup, pointing out the support for a hike from a variety of crash-victims advocacy groups like the Truck Safety Coalition, CRASH and Parents Against Tired Truckers.
Hank Johnson of Georgia was another. "It's not too much to ask to raise the amount," he believed, to $2 million, though "it will add some dollars to a premium." Estimates vary, but insurance agents Overdrive has spoken to in recent years suggested an added $1 million to an already existing $1 million policy, a common amount, might fetch 25% more in premiums over the course of a year.
[Related: 'Please, truckers, let your voices be heard': Insurance rates just keep rising for independents]
At the Truckload Carriers Association's Safety & Security Division meeting, incoming TCA Chairman and D.M. Bowman President Jim Ward lamented so much pursuit of an insurance hike, given it had the potential to "drive wedges between us as an industry," he said. "All our businesses are different and there's not a lot of common sense in the beltway – what makes sense for one doesn't really make sense for another."
About the groups pushing for hikes referenced by Rep. Garcia in yesterday's markups, Ward said, "They call themselves a safety advocate? We're the safety advocates ... we need to have a seat at the table and have the appropriate conversation with [Congressional reps] with the right data. Otherwise, it will cause turmoil amongst all of us."
Also at the TCA meeting, Christenson Transportation President Don Christenson argued for a close look at levels of compensation for injured parties in accidents as a way toward more sensible trucking insurance requirements, given the different needs of different-sized businesses in trucking.
"Using a public utility like the highway system – if you get injured utilizing that public utility and as a society we agree that you need to be compensated," why is that compensation can be so different "if you're hit by a bicycle or by a truck" if your injuries are the same? Christenson asked. "We looked at that with workplace injuries years and years ago," resulting in worker's compensation programs. "If you're injured, your compensation shouldn't [vary so much depending on] what vehicle causes that."
[Related: House's $547 billion highway bill boosts parking, adds insurance hike, apnea screening, other provisions]
Several amendments were withdrawn over the course of the markup, including:
A variety of provisions remain in the House's version of a highway bill, in addition to those mentioned in Overdrive's Friday, June 4, initial report on the effort:
Hours of service: The bill would require safety impact analysis of the variety of exemptions in place in recent history to portions of the rule, likewise the changes implemented in September of last year.
Lease-purchases: Establishment of a "Truck Leasing Task Force" to study lease-purchase arrangements
Detention data: Measures reinforcing need to actually collect data on detention and study such data, as required by the last highway reauthorization, the FAST Act
Training/CSA: Measures intended to push FMCSA ahead on implementation of the Entry Level Driver Training rule and past requirements to revamp CSA's Safety Measurement System in pursuit of a Safety Fitness Determination rulemaking as well as returning CSA SMS scores to public view.
ELD data: Enabling FMCSA with authority to collect and examine records of duty status for research purposes
Brokers: Requirements to clarify the distinction between brokers and bona fide carrier agents, and at minimum take a close look at dispatch services and the penalties for illegal brokering
Drivers on temporary business visas: A DOT inspector general report is directed on the extent to which drivers in the United States on such visas are recruited/utilized by U.S. carriers and operating on U.S. roads
Automatic emergency braking: The House bill would set the government on a path to requiring these systems and their use in most heavy vehicles
The bill has a long way to go before becoming law, including through the full House and then the U.S. Senate, where an alternate vision of a funding reauthorization is under consideration as well. Read more about that bill via this link. --Matt Cole contributed to this report.