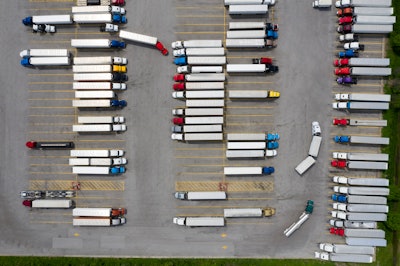 The House Committee on Transportation and Infrastructure on Friday introduced a new $547 billion highway bill draft called the "INVEST in America Act," which contrasts with the Senate highway bill proposal in a few key areas.
The bill proposes spending $1 billion for "a grant program to address the shortage of parking for commercial motor vehicles" and increasing the minimum amount of insurance required for carriers from $750,000 to $2 million, which the FMSCA would be required to adjust for inflation every five years.
The Senate bill, which passed committee unanimously in May, does not mention truck parking or minimum insurance requirements. Other provisions in the House bill would require screening for sleep apnea, place limits on drivers' personal conveyance, and return CSA scores to public view.
[Related: Inside the divide between docs and Congress, truckers over sleep apnea]
The Senate bill deals much less with trucking-specific issues, but both bills take a broad view of "infrastructure" and hope to tackle issues like climate change and increased access to commuter rail. The House bill proposes $4 billion for electric vehicle charging stations and $8.3 billion to reduce carbon emissions. The Senate's bill includes $2.5 billion to create alternative fuel and electric vehicle charging corridors along the National Highway System and $18 billion in climate programs, including $6.4 billion for reducing greenhouse gas emissions and $8.7 billion to increase resilience to and extreme weather.
One of the House bill's authors celebrated the expanded view of infrastructure endorsed by the House, the Senate and President Joe Biden.
"As chair of the Subcommittee on Highways and Transit, I believe the country today requires a new and more comprehensive approach well beyond our prior bills," said Eleanor Holmes Norton (D-DC) in a statement. "For example, this bill takes on entirely new issues never before considered, such as climate change and multi-modal access in and through cities and towns."
The House will consider the bill during a markup Wednesday. If the bill passes the Democrat-controlled house, Congress will reconcile it with the Senate's highway bill proposal and present the final legislation to President Biden, who has signaled support for broad infrastructure bills that include climate and equality initiatives.
The Owner-Operator Independent Drivers Association (OOIDA) fiercely pushed back Friday on many of the trucking-related provisions of the House's proposal, calling the increase in minimum insurance requirements "unnecessary" and a "poison pill" for truckers.
"Everyone knows this increase will do absolutely nothing to improve safety on our highways and will destroy small trucking businesses," Todd Spencer, President and CEO of OOIDA said via statement. "What good is a highway bill when it does more to support the unbridled greed of trial lawyers than truckers?" Spencer continued, in reference to the growing number of nuclear verdicts across the trucking industry.
[Related: Trade groups call on House to reject insurance increases]
American Trucking Associations (ATA) President and CEO Chris Spear lauded the INVEST in America Act as "a solid piece of legislation that authorizes a transformative increase in funding for roads and bridges, creating a strong baseline of new investment that aligns with the growing needs of our nation's aging infrastructure," noting that ATA supports the bill and will continue working to improve and advance it into law.
OOIDA took issue with the bill's sleep apnea screening requirement and bringing back public CSA scores, but applauded the bill for its investment in truck parking.
"For years, we have been pushing the federal government to take the lead in addressing the number one concern for truckers – the lack of truck parking," Spencer explained. "We're pleased [the] proposal includes $1 billion to expand capacity. We just wish he would have left the other junk out of it."
The bill stipulates that any new commercial trucking parking lots that receive the government funds must be free to use for truckers.
Truck parking was the top driver issue listed on American Transportation Research Institute's (ATRI) 2020 Top Industry Issues list, but did not make the carriers' top 10 list.