When it comes to the truck stop experience during the pandemic and what the future holds, it was Lincolnton, North Carolina-based Erick Engbarth who put things into perspective for me, early in the pandemic. Regular readers will recall the "Where's a trucker supposed to eat?" post that featured Engbarth's thoughts on what he was seeing back then. It was late March, numerous states were into various versions of "lockdown" and, in the words of truck stop operator group NATSO's Lisa Mullings, stop owners were in some cases even having difficulty "making sure we could stay open throughout the pandemic. At first we were lumped in with other businesses that are different than we are." It wasn't long before most jurisdictions realized it was essential for stops to "stay open to serve" truckers, clearly essential for the basic functioning of life in America.
Truck stop operators and truckers shared something of a common bond, too, in that "some of our members that are large have to deal with many different jurisdictions," Mullings pointed out. "Quite frankly, the drivers had to deal with that as well."
Still do. The odds of finding a truck stop diner still closed entirely out in California, say, are much higher than here in Tennessee (though as yesterday's story points out, you can find those "haunting sights" here too, as Bryan Hutchens put it).
I imagine most of you well know this scene a little better than prior to COVID, too:
Reader Jeffrey Curtis, in comments here at Overdrive, said he rarely enters a truck stop anymore, echoing the response of one in nine respondents to the poll all told. "Now it's just fuel and leave," he wrote. "I am by the house about every other day, so I just shower there." And to save money, "I shop locally and just eat out of my truck."
But the deckplate diner doesn't satisfy everyone, and a view of the back of the cab, front of the trailer or, say, a roaring reefer or two on either side of you can get tiresome. Respondent Rudy Yakym Jr. commented that spotty access to driver lounges has been "the single most significantly changed aspect of the truck stop experience." He suggested that instead of totally closing lounges, truck stops should designate a minimum number of seats.
Some stops' indoor refuges for drivers do in fact remain open, with distancing recommendations/requirements. A TA-Petro rep speaking on background in late September noted many stops had then recently reopened lounges with new standards and protocols for sanitation therein, distanced seats, and max occupancy. That was the case, too, when I visited White's Travel Center Oct. 1 on I-81 in Virginia. The small theater therein, for instance, was open for use, with this sign instructing visitors to practice distancing from other parties when using.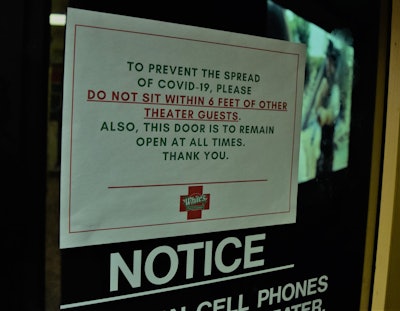 Mullings' thoughts on jurisdictional difficulties, though, still apply, and owner-operator Yakym advances a not-uncommon sentiment: "There have been times when I have felt myself a prisoner in my own truck because there was nowhere else to go."
There has been a move to creating more outdoor areas where drivers can take a load off, or eat a meal. "A lot of our members who didn't have outdoor seating have been adding that," said NATSO's Mullings.
As I noted here last week, there's a sizable new outdoor-seating area as part of the new Quaker Steak & Lube restaurant down the hill from the parking lot at White's. As colder weather takes hold, I imagine there will be plenty demand for propane all around the nation.
There's a definite new appreciation for outdoor settings all across America through this, as a variety of research has shown COVID-19's ability to spread more readily indoors. Owner-operator Engbarth's main customer, pre-pandemic, did a large amount of business with him to haul motorcycles to large indoor events. Though such events were curtailed entirely in the early pandemic, Engbarth said that events promoters began "doing a lot more outdoor stuff, from what I've seen," he said.
Up next in this series is a look at ops/freight/biz strategy. What about your approach to your business has changed that is likely to endure post-pandemic? Reach out to me directly or drop a comment below? (A note about our comments section: We're still getting your commentary, fyi, when you use the comment box, but the plugin we use isn't being updated anymore and it's stopped being able to display comments there. We're working on a solution to get the display working again. Apologies! Meantime — keep commenting and know we're reading what you have to say, at least.)