Five nights a week, said Bobby Berkstresser, owner now for about a decade of White's Travel Center, the parking lot is edge-to-edge trucks. That's in spite of one of the many things the Raphine, Virginia, truck stop is known for — its size, with more than 800 truck parking spots across approximately 100 acres the full site occupies at I-81 Exit 205.
That parking lot will get bigger next year, said Berkstresser during our brief tour around the place when I stopped en route to the 10-4 on D.C. event two weeks back.
Recent years have seen the addition of a Carillion Clinic urgent-care facility and drive-through pharmacy. There was already a resident doc's office for DOT physicals and more routine care, laundry facilities, and a fresh deli and market that's been going gangbusters in recent times thanks in part to COVID-19 and state-mandated reductions to in-person dining, and so much more.
At the Iron Skillet restaurant, seating was restricted to every other table. Hot buffets were empty spaces, though a salad bar was open and well-stocked, with state-mandated hourly utensil changes and other precautions and documentation in place.
And at the back of the lot, not yet full given the mid-afternoon hour I was there:
Other changes have been in the offing recently, too, including more of those dining options I mentioned earlier, in a freestanding building down the hill east of the truck parking lot.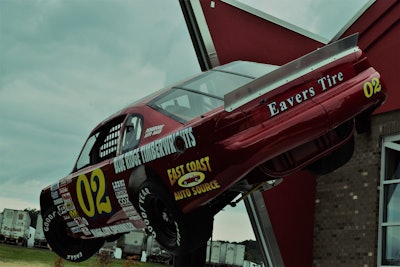 If you get by Raphine on the way up North or headed back out South, stop in and tell them we said hi. It's clear Berkstresser and company take good care of the place, particularly appreciated in times like these.