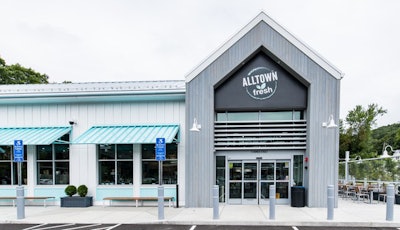 The Global Partners parent company of Xtra Mart, Fast Freddie's, Honey Dew and (its largest) Alltown convenience store/fuel stop brands has a relatively new one it's calling Alltown Fresh. Currently at two of its locations (Plymouth and Ayer, Massachusetts) Alltown Fresh is featuring high-flow diesel among its fueling options, and more such locations are on the horizon this year, said Ryan Riggs, Alltown's senior VP of retail operations.
"I feel strongly about this segment of guests," he told me last week: "diesel users who want to go somewhere routinely and not sacrifice wellness with what they put in their bodies."
Alltown Fresh essentially adds to the typical convenience store model something resembling a deli/restaurant, and with an emphasis in the fresh kitchen and elsewhere around the store on more healthy, often more local, ingredients. "We're really trying to be an enhanced experience" for customers of all stripes, including truckers, Riggs said. Both Plymouth and Ayer locations are open 24/7 (as are others) and have a limited amount of truck parking. The kitchens are open for breakfast and lunch, and Alltown Fresh meals are available through Grubhub for delivery to nearby locations.
Curbside pickup orders (delivery direct to customer vehicles outside the store) can be placed, too, by those "who do not want to come inside or leave their vehicle," Riggs said, potentially saving time. "That subset of people has existed" since the Alltown Fresh stores began opening early in 2019 "but has gotten larger," including among truckers.
"We're looking to where we can possibly expand parking" in current and/or future locations, too, Riggs said. "That's a big issue, I know. … We've worked out some unique space at some of our sites, but we're looking into the possibilities of a dedicated lot for this group. Then we have a group of offerings that we are constantly asking our drivers about — a standard set of things they might need through the course of the day."
Perhaps the biggest differentiator for the C-store brand, though, is "our inside food offer" and general approach to merchandising, Riggs added. The place feels, some customers have remarked, more like being in a Trader Joe's than a fuel stop. "We have better-for-you food — and things customers can take in larger portion sizes that they can use for numerous meals" down the road. For the evening meal, too. Though the kitchen is operational for made-to-order meals for breakfast and lunch, Alltown Fresh caters to travelers with meals pre-made and packaged for quick takeout. "We have them out front in a cold refrigerated case … for purchase when the kitchen's not open [for customers who] may come in late at night and want to stay on the lot for a while with a meal and a few hours of sleep," or pack a cooler for the day ahead, or whatever the case may be.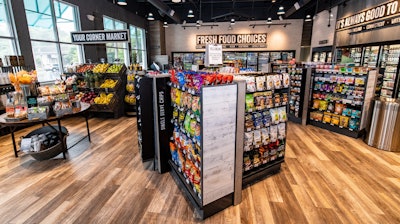 The COVID-19 pandemic, as it did for so many businesses inside and out of trucking, put a bit of a wrench in expansion plans for the new brand — they may not get to the previously planned seven new locations built and operational by the end of the year, rather more like four or five, Riggs believes. Some will have diesel, some won't. At least two of the sites will feature high-flow diesel and likely to be converting from sites that the Global Partners parent company already operates.