Previously in this series: Truck stops see enduring shifts in food, other services in pandemic's wake
Long before the pandemic, truck stops and franchise outlets were using mobile apps for order-and-pay food service as well as parking and shower reservations. Now, with an incentive for drivers and truck stop operators to minimize interpersonal contact, such tech-based innovations are more in demand. With their built-in efficiencies, even apart from pandemic concerns, there's no reason to expect a reversal in their market penetrations.
Restaurant franchise locations such as Chester's Chicken and Wendy's are catering to the CDL driver interested in reducing risk in a pandemic.
NATSO leader Lisa Mullings pointed to their efforts within their respective smartphone apps to alert CDL drivers to where curbside pickup was available in lieu of the ability to access a drive-through with a truck.
Overall, though, "our industry may have adopted some of this slower than other retailers," Mullings said, speaking to app-based interactions with individual sites. However, during the pandemic, truck stops are definitely "starting to catch up."
"It's about our members knowing what they can do and what's possible with app-based ordering," she said. "They've had to quickly get up to speed and see what's possible."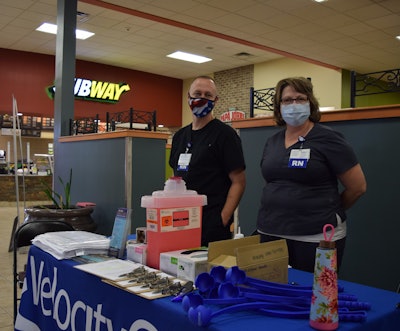 The Love's Connect app for customers of the network of Love's Travel Stops gives drivers the ability to pay at the pump by answering prompts on their device, likewise to receive a digital receipt for any transaction that includes a swipe of their rewards card. Mobile Shower Check-In also gives Love's rewards members "a contactless option to check in and pay for a shower," a Love's representative said.
Expanded roles for smartphone apps to reduce direct contact hold import for most truck stop interactions, said Jason Nordin, chief operator for Pilot Co. The company's smartphone app helps users "limit contact at stores and helps guests stay safe and healthy." Nordin said Pilot recently has enabled touchless transactions at all points of sale with tap-and-pay, Apple Pay and Google Pay, in addition to mobile fueling and shower check-in.
Other truck stop networks have similar offerings, including TA-Petro's TruckSmart app, minus the fueling feature. TA-Petro representatives note they're rolling out mobile contactless fueling options under the PumpSmart name soon.
Parking reservations also increasingly have been handled in-app across stops both part of the big chains and not. Third-party players such as Rig Rest and TruckPark have facilitated reservations and payment for many smaller stop networks and nontraditional spaces such as excess at fleet terminal yards.
White's Travel Center owner Bobby Berkstresser sees further potential for White's services to evolve, given that "people's habits will change for a long time," vaccine or not. In conjunction with a planned addition of about 150 parking spaces this spring, each space will be numbered, opening the possibility of delivering food and other items to drivers who prefer not to leave the safety of their cabs.
Changes such as that, accommodating customers' behavior changes in light of the pandemic, he's betting on as a growth opportunity.