Singer-songwriter and now-former driver Jason Lee Wilson of East Tennessee I've always known as a man with a refined sense for the sometimes hidden meaning, or opportunity for humor, in all things. That extended this past week to a bulb he came across in the course of work on a customer's pickup with his Dixie Lee Speed custom vehicle business.
"I was doing a wiring harness swap," he said, and "I don't know if I was swapping bulbs or looking for a good bulb or what." But when he removed the bulb below from its plug, he was mystified by just how that much liquid could have gotten inside of it -- until he realized what he had ...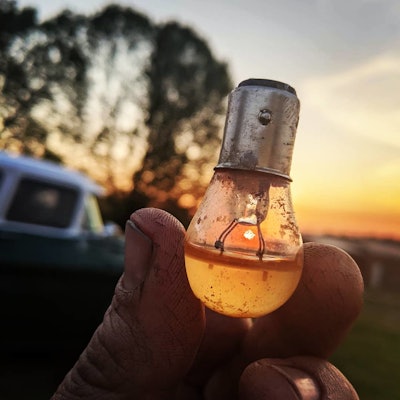 "Somebody said you ought to bottle that up and sell it on Amazon," he said, but that wouldn't have been the first time such had happened – search "blinker fluid" there and you'll find no shortage of gag oil quart bottles on sale labeled as such.
Wilson went one better, bringing the bulb inside away from the evaporating rays of the sun and offering it up as the genuine article on eBay. Asking price? $100. Not a bad rate for a phantom come to life, wouldn't you say?
Speaking of (so to speak) resurrections, Wilson also shared some of the details of a restoration project he's helped finish for a Tennessee-based owner. Meet "Big Frank."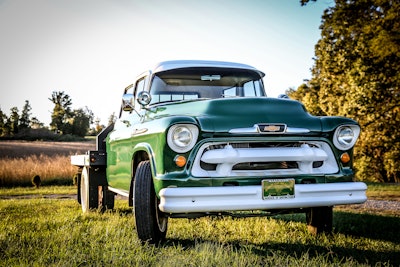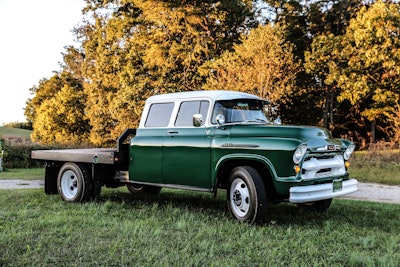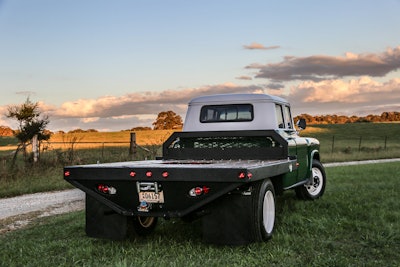 [Related: Hotshot to heavy haul: Solving customer problems opens doors as owner expands with Class 8 ]
Dream hotshot truck, anyone?
Wilson's been busy this past year, no doubt, with this and other projects, since we last checked in with the past Trucker Talent Search champ.
[Related: New record due Jan. 20 from Jason Lee Wilson & James County: Pre-order proceeds to benefit Australian firefighting, recovery efforts
Around the time of the "Tennessee" record release last year, he and the James County band members set about staging a couple shoots for a potential music video for the "Come Down" single. One of the shoots took place at the Ciderville Music Barn in Claxton, Tennessee, the other at a community church called Headrick's Chapel in Wears Valley.
At both of the events was a man Wilson described as having been a fan of his music – and also his longtime boss, when Wilson hauled for MDM Trucking out of Maryville, Tennessee, moving aggregate, asphalt and more in triaxle dumps. The small fleet runs about 10 trucks all told, Wilson said. He drove for MDM for years, including during the time when he won the Overdrive-Red Eye Radio Trucker Talent Search in 2016.
Sadly, MDM's founding owner-operator Thomas Douglas Mincy passed in August of last year.
Shortly before Christmas, Wilson and James County were finally focused on finishing up the editing of the "Come Down" video and Wilson realized full well that Mr. Mincy had been captured in it. "In the music-venue scene, there's a point when you're looking out from the stage to the audience, and on the right side of the audience there is a light in the back on that side – and at one point it's glowing over and behind his head – kind of an angelic scene," of a fashion.
Mincy lives on in plenty other ways, of course, too – "this machine he created," Wilson said, starting with just one truck and going on to employ so many people over the years, that machine of MDM keeps on humming. "The company is functioning as if he were there – a big machine that's still moving on."
Read more about Mincy via his obituary at this link.
Jason Lee Wilson and James County perform live this Friday, April 23, in Crossville, Tennessee, at GrinderHouse Coffee, 6-8 p.m.