Following my story last week detailing a new category (speeding violations) in our annual rankings that show the extent to which state truck-enforcement departments prioritize different violation categories (based on actual violations issued), one reader objected to the implication that his own state of New Mexico could be seen as particularly tough on speed scofflaws among working haulers – or our four-wheeled friends.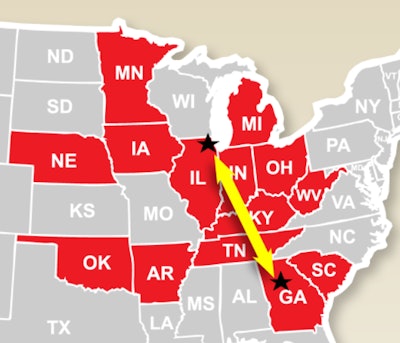 New Mexico's No. 8 ranking "is in stark contradiction with what I see as a New Mexico resident who drives between Albuquerque and Moriarty, 40 miles to the east, and in Albuquerque," the reader, Craig, told me. "It's particularly bad when heading east out of Albuquerque up the pass on a Friday afternoon. Not only do four-wheelers speed, but many tractor-trailer rigs speed, too."
Craig noted he's held a longtime hope that New Mexico state troopers and local police, particularly in Albuquerque itself, would "pay attention to this situation, but people seem to get away with it all the time."
Perhaps this week's push by the Commercial Vehicle Safety Alliance's Operation Safe Driver enforcement effort, focused on speeding in particular, has boosted patrols in that lane and elsewhere, putting focus where it's needed.
What have you seen on your lanes this week when it comes to enforcement, whether involving our four-wheeled friends or not? Drop a comment below to weigh in.
Annals of a litigious society: More 'additional insured' insight
W. Joel Baker, longtime independent owner-operator now working principally as an insurance agent for owner-ops as well as a business consultant, reached out after my discussion of his warnings about acquiescing to any broker's or shipper's demands to be added as an "additional insured" on your own liability policy as a condition of doing business.
Baker's attorney sent along an anecdote that he felt well-illustrated the central conundrum such a practice presents for the owner-operator or carrier who does acquiesce – doing so just gives any unscrupulous insurance company a way to muck up the works to avoid paying a claim. Here's what the attorney said:
About 15 years ago I interviewed with a law firm that specialized in insurance defense. The role that I would have filled with the firm was essentially to argue against any claim that came to the firm. The insurance company was not what I would call reputable, and they made sure to fight with their clients when a claim was presented. As it was explained to me, I would go into the courtroom on a daily basis and do whatever I could to find legal loopholes in order to deny the client's claim. The law firm was not concerned about the ethics of the practice, and they were going to require me to essentially fight with judges every day, even if what I would be doing was unethical. The insurance company would rather pay me as their attorney to jam up the court system with bogus legal arguments than pay out a settlement to the client.
Obviously, I did not take the position.
In the discussion last week, Baker presented a hypothetical involving a widget manufacturer (shipper) and its owner-operator carrier whose rig on-site at the shipper is damaged by the collapse of a dock overhang.
"If the owner-op filed a claim against the widget company for property damage from a failed overhang, the widget company's insurance company providing the general liability insurance for the widget company" and/or its attorneys "would then produce the owner-op's certificate of insurance with the widget company listed as an 'additional insured' so as to say, hey, we're covered with you on this other policy here, so you can handle it there. "The owner-op then files a claim against his own insurance policy for physical damage. Because the widget company is listed as additional insured, though, the owner-op's insurance company is unable to sue the widget company – it can not sue one of its own insureds, even an additional insured – and has no way to recoup the cost of the repairs from the owner-op's physical damage claim. As such, the claim will now appear on the owner-op's 'loss runs,' which show all insurance claims. The higher the claim count, and the higher the claim cost, the higher the owner-op's insurance premium increases."
The additional-insured demand enables those who would go to great lengths, in other words, Baker and his attorney both intimate, to avoid paying a claim if it's possible. I'd say it's best not to help them if you can afford to.
[Related: Just say no: One owner-operator's approach to broker/customers' demand to be 'additional insured']