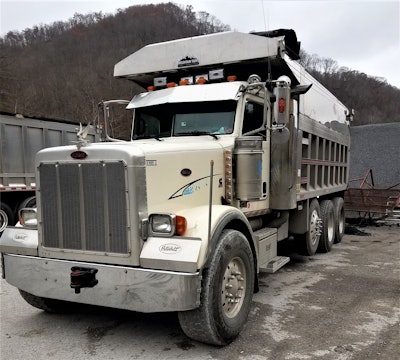 It's not often I hear from one among the more local, dump-truck owner-operators among you here, yet in the first week of this new year, owner-operator Miles Puckett sent along the above picture of his business's pride and joy. "Love Overdrive," he said.
Thanks, Miles.
Puckett, it turns out, is no newcomer to trucking. The Air Force veteran, having served during the Vietnam war era, has been around the business long enough to have been grandfathered into the CDL program that emerged later. Running today out a home base in Salyersville in Eastern Kentucky, Puckett and his 2007 Peterbilt dump haul blacktop and more, working with a variety of outfits in Kentucky and West Virginia -- West Virginia Paving and Shamblin Stone in the state to his east, Mountain Enterprises in Kentucky, among others.
He gave this shout out to the three companies mentioned: "These are the best outfits I can think of. I think that's one reason I am still trucking" after the decades put into the business. "They really care about their truckers and their lease trucks -- wonderful people to work for. That means a lot to me."
He's not alone in the short-haul pursuit among owner-operators in his area -- a group of 12 to 15 fellow owners he knows there, he said, do much the same.
Among them is Puckett's son, Taylor, hauling with "a beautiful 2014 Pete 389 with a Cummins ISX 15," he said. Taylor "agrees with me" on an assessment of the regionally-focused companies they work with.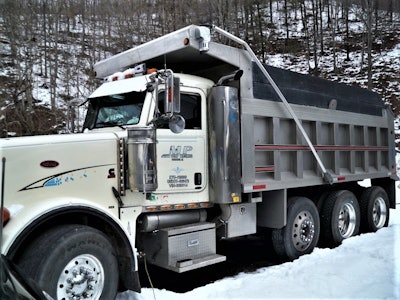 This time of year, when road work lags in his area with the usual seasonal challenges, father and son, and other owner-operators in the area, head South to Florida, where they pick up in the materials-moving operation of Trans-Phos, Inc., out of Bartow, Florida. "This is another outfit I can't say enough good things about," Puckett said. For an owner with a truck payment, of course, "you can't sit around with big payments in the Winter months" without revenue coming in.
More words to truck by, there, no doubt. Thanks for the views on the rig, Miles.
If you're hauling in a similar operation, get in touch. Given big infrastructure investments coming the next several years, a steady line of paving work when weather cooperates could easily present opportunities for growth. ... What's your situation?