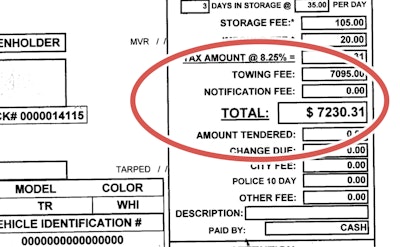 Courtesy of Joe Cabrera
Since my last story looking at towing practices with several cases in the Southeast, no fewer than half a dozen truck drivers and industry professionals got in touch with their own personal horror stories about exorbitant, predatory fees. Such practices take advantage of the fact that, in each of the cases here, operators and their support staff were simply at the mercy of the towing company, sometimes with law enforcement on the scene as well.
In owner-operator William Booth's case, a few years back when he was leased to Prime, he misjudged the turn into a gas station, and he "wasn't watching my trailer tires."
You can guess what happened next.
$3,000 for a ten-foot tow?
"I turned a little short and before I knew it my two trailer tires on one side dropped down into a two-foot-deep ditch," he said. "I almost pulled out, but the back bumper dragged on the asphalt."
Booth was loaded "with about 40,000 lbs. on the trailer," he said, and this was in the wee hours of the night. Given Booth was blocking traffic, the cops eventually came and summoned a wrecker.
"I almost fainted" when he saw the bill, he said. It came in at around $3,000 to simply lift the trailer up two feet out of the ditch, and swing it over about ten feet back onto the road. "I was in no position to argue with anybody I was new to the driving thing and there's two cops standing there with the tow truck driver just like, 'That'll be $3,000.' I was in shock. What can a guy say? I could have swallowed $1,500, but $3,000?"
[Related: $6,000 for 16 miles? Viral video sparks outrage over predatory towing]
Booth did his best to forget about the incident, and doesn't even remember when or where exactly it all happened now that he's crossed the country several times since.
The tow operator promised to email a receipt, but none ever came, he said.
Two other readers wrote in about alleged nightmare experiences with Speedy G Towing Service in Schaumburg, Illinois. Small fleet Windstar Lines said an owner-operator hauling for them had a breakdown after leaving a truck stop in Bensenville, Illinois, coming to rest at an intersection on Busse Rd. & Foster Ave.
"Our owner-operator thought that she had a problem either with a clutch or transmission," said Andrey Rafa, who runs the fleet. "She panicked a little, because she was in the middle of the street, so in a hurry she started looking for a service in the area. She came across Speedy G Towing Service, and since there's a little language barrier, she asked me to call them and ask them if they could help."
Rafa, "in the middle of a busy morning," asked them to come out "without even giving it a second thought." Speedy G told them they'd be there soon, even dissuaded Rafa from addressing the situation himself -- Rafa had another tractor nearby that could have moved the trailer, at least.
"One of my other trucks was at the shipper nearby, so I offered to send him to get that trailer and drop it at their yard, but" Speedy G "assured me that it wasn't necessary," as it was their tow job, "and since we're bringing it to their shop to fix the truck, it wouldn't matter."
Half an hour later, the tow truck shows up and says it will cost $1,200. They tow the truck about nine miles, according to Rafa, and then say they won't be able to do the repairs, and they'll have to get towed to another shop. Speedy G then hit Rafa with a $3,855 bill without even fixing the truck. He paid another company $700 to tow and fix it, eventually.
Later, Rafa called the company, demanding answers, only to get a kind of maddening runaround, where he suspects he was given fake names and false information.
South Bend, Indiana-based RV toter Rudy Yakym Jr. said he was "taken to the cleaners" by Speedy G, who charged him $5,500 for a tow he estimates should have cost $1,700 or so.
Speedy G's Google and Yelp reviews feature hundreds of people complaining that the company misrepresents its rates, threatens drivers with raising the price, and provides invoices that simply don't add up.
Speedy G Towing Service refused to provide comment despite multiple attempts.
$7,230 for an intracity haul
Joe Cabrera, Carrier Compliance Manager at SEL Supply-Chain Solutions, a freight brokerage, provided documentation that a carrier the broker was using was charged $7,230.31 for an intracity haul -- about 25 miles across the city of Houston, Texas from Five Star Auto Storage.
"The carrier didn't have the clearance to go through an overpass and scraped the roof of their trailer," wrote Cabrera. "Houston PD was called in and they ordered the tow. The tow truck hauled the vehicle 25 miles max from where they picked up to their tow lot. We had to pay their crazy rate to get it out, plus their daily storage fees."
Cabrera maintains that Five Star demanded cash payment, something that's contrary to stipulations in local law.
Five Star said that this particular tow job required two tow trucks, a Landoll trailer and about 6 hours of labor. The company confirmed charging $7,230.31 for the job, $7,095 for the towing itself.
"That's more than we charge to haul freight from Florida to California," said Cabrera.
We asked the city of Houston if they knew that one of their contracted tow operators was charging these rates.
"The City of Houston's Administration & Regulatory Affairs Department annually adjusts tow rates based on the Consumer Price Index or based on a cost-of-service study if requested by a non-consent tow operator. In 2022, the non-consent heavy-duty tow rate was $289.00 per hour, 2-hour minimum," said Billy Rudolph, the Chief of Staff at the Administration & Regulatory Affairs in the City of Houston.
By Five Star's own admission, they charged about $1,200 per hour for Cabrera's carrier's overall tow. Even if you count each tow truck and the Landoll trailer's time separately, it comes to $400 an hour, and Five Star did not itemize the bill as such.
[Related: Say no to 'legalized theft': More states should work to rein in rampant abuse of nonconsensual tow fees]
How owner-operators can fight back over exorbitant rates
Rafa from Windstar Lines tried calling local news stations, to no avail. They were told that it would be a "very long shot" to take Speedy G to court, and that even then the case would take months to play out and likely not cover much more than attorney's fees.
Attorney Paul Taylor, head of the Trucker's Justice Center firm, expressed some measured optimism about legal remedies for outrageous tow bills.
"Small claims court might be a viable option," he said. "Pay it and then sue them, but put a notation on it, an enclosed letter saying you're paying this to recover possession but not waiving any other claims. There might be lawyers who would take something like that." He noted that truck owners would normally have no choice but to pay to get their truck back.
He also pointed toward Downtimeclaims.com, a law firm focused specifically on trucking and loss-of-income claims incurred during downtime, as potentially helpful.
Otherwise, towing regulations are hyper-local. Each city, state, and even parking location might have its own rules and regulations governing it, so it's hard to give blanket advice.
Unfortunately for drivers who feel "taken" by these crooks, as Booth, Rafa and Yakym put it, the best thing in the short term may be to move on, but do it loudly.
"I just had to move on. That kind of stuff can eat you alive if you let it, but I'd love to be able to warn other people," said Yakym.
"I made a rookie mistake and learned an expensive lesson," said Booth.
We're in the process of compiling resources for those who feel unfairly charged by towing companies. Keep sending us your stories -- if you have had experiences with what you'd consider predatory towing practices, contact AlexLockie@Randallreilly.com.
[Related: Parking perils: The increased cost, and risk, of booting and towing]