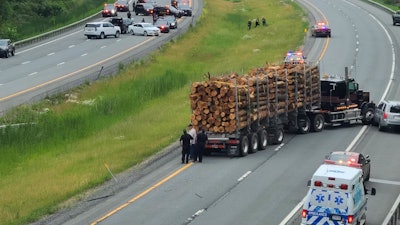 Courtesy of Travis Pelepzuck
New York State Police Trooper Richard Albert approached an SUV he'd stopped for driving 100 mph through the town of Duanesburg, New York, along I-88 when suddently, a pistol appeared out the driver-side window and a shot struck him in the left arm.
"Trooper Albert returned fire," a release from NYSP read. "The shooter and the driver exited the vehicle, and the shooter fled on foot. The driver was taken into custody uninjured at the scene."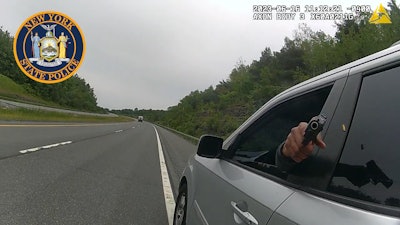 The shooter, a 32 year-old from nearby Schenectady, New York, fled on foot for an hour and a half and was found "suffering from a self-inflicted gunshot wound," police said. Despite efforts to fly him to Albany Medical Center, the man died of his injuries. Trooper Albert survived, went to the hospital, and has since been discharged.
Why didn't the car just drive off? Because of the actions of one anonymous truck driver. NYSP confirmed that, during the chaos, a passing logging truck swerved across two lanes of traffic, blocking in the suspect's car.
For now, the police "will not be releasing the logging truck operator's information out of a respect for their privacy," said Trooper Stephanie L. O'Neil, spokesperson for the NYSP. "I would like to say that the actions of the Tractor Trailer operator during this incident were nothing short of heroic, and I genuinely believe he prevented these individuals from terrorizing additional victims," she continued.
Police charged the SUV's driver, a 30 year-old also from Schenectady, with two counts of Robbery in the First Degree, Criminal Possession of a Weapon in the Second Degree and the additional charge of Criminal Possession of a Weapon in the Second Degree for what investigators determined was "willing" participation in the shooting.
A passerby on a nearby overpass, Travis Pelepzuck, snapped a picture of the scene unfolding below him -- it's the only publicly released photo of the log truck at the scene.
"The loaded logging truck and its driver remained on scene" following the incident, NYSP said. Despite what looks like may have been a small collision, "no citations have been issued," the police said.
The move comes just days after news broke of a truck driver in Martin County, Florida, who showed the "skills of a linebacker" in tackling a fleeing police chase suspect on foot.
Who says truck drivers aren't still the "Knights of the Road."
[Related: Operator let go after fentanyl, heroin found stashed in trailer]