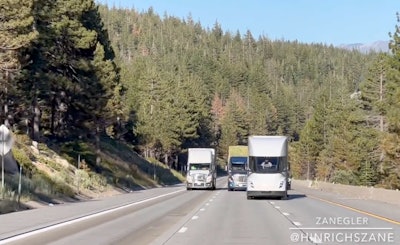 Hinrichs Zane via Twitter
The Tesla Semi has remained a secretive project despite a limited rollout to Pepsi in December, but new videos posted on social media purport to show the EV blowing the doors off diesel trucks on one of the most challenging stretches of road in America, Donner Pass in California.
When Tesla's Elon Musk announced the Semi's delivery to Pepsi, he called it "the most badass rig on the road" citing the Semi's unheard-of 20 second 0-60 mph times. Overdrive readers got a kick out of that, expressed some measured criticisms (and some not so measured), but mostly said they'd be open to trying it out.
The video below, posted by Hinrichs Zane, a "Tesla Semi stalker," shows the Semi making quick work of the steep grade.
Zane declined to be interviewed for this article, but insists on Twitter that he knows the Semi is loaded in the video, calling attention to the trailer tires and asking "why would engineering run these trucks empty? They wouldn't."
Tesla itself has released video of the Semi running up Donner Pass hauling concrete dividers, which Musk said put the vehicle weight at 82,000 pounds, using every bit of the 2,000 pound allowance for EVs.
"We're going with a tri-motor system, so one of them is constantly engaged for maximum efficiency," Tesla's senior manager for truck engineering, Dan Priestly, said at the delivery event in December.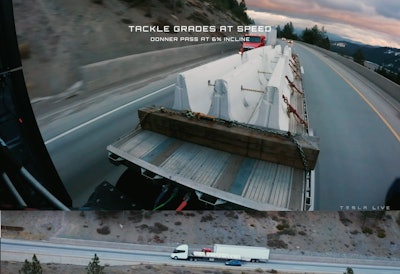 "The other two units are for torque and acceleration, so when the driver needs it to get the job done," said Priestly, "whether it's getting out of the loading dock or it's on the road [and] they need to pass somebody. You're tackling a grade, you have the torque and power to do it."
Unlike the extremely hands-on experience of shifting gears up and down the mountain passes, Priestly said, the Semi basically does all the work.
"The cool thing is these are also clutched automatically, so no driver input needed, but it's also seamless," he said. "If you're driving on the highway, the efficiency unit is cruising along doing its thing and if the driver puts their foot to the floor, the torque units spin up, clutch engages and takes over and it does all of that before we've maxed out the torque on the efficiency unit, so it's completely smooth. There's no turbo lag or jerkiness or anything like that."
Look again at the video. Does it look as smooth as he says?
Of course, it's not hard to beat a loaded tractor-trailer in a drag race, but the video from Zane suggests Musk's supposedly "badass" truck may just have some advantages over traditional diesel power.
That said, TikTok is also awash in videos of the Semi supposedly broken down. And with persistent fires breaking out at Tesla competitor Nikola's Phoenix, Arizona headquarters, firefighters are already encountering EVs turned "beast" in the form of 800-degree fires that take maybe a million gallons of water out of a deck gun to extinguish.
But nobody's rig is perfect, right?
If you've caught the Semi out on Donner, what did you see? Drop us a comment or email Alex Lockie to share.