Times are tough for the American truck driver, but when the going gets tough, the tough get to doing strap work and still remember to do the pre-trip and other en route inspections. This month, law enforcement flagged a couple of particularly heinous violations of the commercial code on load securement.
Overdrive contributor Clifford Petersen, among others, has long advocated for more advanced training for professional drivers, especially with regard to load securement, and the following pictures may just make his case for him.
Flatbedders beware: the following scenes may be upsetting.
First up, a non-Class 8 tractor that's in a class of its own when it comes to teetering on the brink of disaster.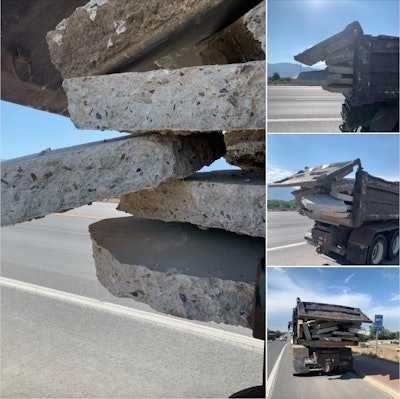 Police in Weber County, Utah, described this beauty as "unsecured," a considerable understatement.
The Weber County Sheriff's Office CVSA Truck Inspector "noticed a dump truck traveling in West Haven with an unsecured load. A traffic stop was conducted and a CVSA inspection was conducted. This vehicle was placed out of service until repairs were made," they said. "With summer in full swing we would like to remind everyone to properly secure and check your load when hauling. Every year Utah sees several accidents due to debris on the roadways that have fallen out of a truck or trailer."
[Related: 'Nothing to hide, nothing to fear,' right? Get ready for Level 8, automated inspections]
Next up, a flatbedder headed to the garden store, but loaded with enough unsecured topsoil to turn just about any stretch of highway into a raised bed. The Georgia Department of Public Safety's write-up of the incident is so colorful with emojis (do people really type like that now?) that we'll just post it below.
Finally, in California, where it currently takes a lot of effort and paperwork to run legal, one flatbedder remembered the straps, but forgot the pre-trip.
The ominous music and slasher film-style font here emphasize what's really a scary situation. Look at the lean that coil is putting on that poor abused trailer!
[Related: Securement accountability, mentoring, training: A simple procedure any small fleet owner might employ]