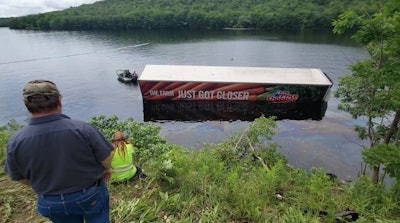 Kristopher Radder for the Brattleboro Reformer
A tractor-trailer hauling an empty reefer went off the road, down a 20-foot drop, and into a reservoir before the driver was able to swim to safety at the shore on July 3.
The accident took place in Wilmington, Vermont, at Harriman Reservoir. Just hours earlier, another unlucky truck driver made headlines across the state for getting stuck on the dreaded "Smugglers' Notch" portion of state route 108.
[Related: The most dangerous road for truckers? Vermont's Notch Road claims another]
Police identified the truck operator as David Miller, age 53, of nearby Esperance, New York. Miller "was operating a 2020 Mack Truck towing an empty 53' box refrigerated trailer," the police said.
"The truck traveled off the travel portion of VT Route 9 for approximately 300 ft, crossing over Oxbow Loop, and proceeded off a 20' drop, coming to rest in Harriman Reservoir," they continued.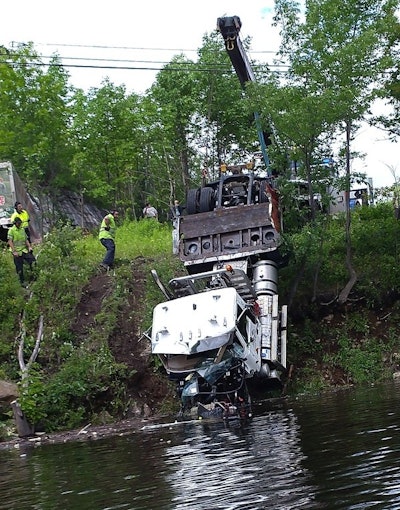 The Mack sunk into the water, ending up submerged a further 20 feet below the surface as the empty trailer bobbed nearby. Miller "was able to exit the vehicle on his own, and swam to the shoreline where he was holding onto a tree. The driver was rescued out of the water by High Country Marina staff, Deerfield Valley Rescue, Wilmington Fire and Wilmington Police Department," the police said.
The driver was hospitalized to evaluate his "multiple injuries" from the crash. A swarm of local and state outfits descended on the reservoir, a popular spot for outdoor recreation, "control the diesel and motor oil that leaked into the Harriman Reservoir," the police said.
Local media pointed out that the floating trailer bore the slogan "THE FARM JUST GOT CLOSER" alongside the floating trailer.
"The box trailer was empty and was floating on the reservoir and was hoisted from the reservoir by DJ's towing," the police said. DJ's told me they "hadn't even gotten into the figures" of how much the recovery job would cost, as there were hazmat issues with the spilled fuel and oil, but safe to say this will likely be an expensive job.
A police boat and divers eventually rigged up the sunken truck, which was also dragged out. Police are still investigating the cause of the crash.