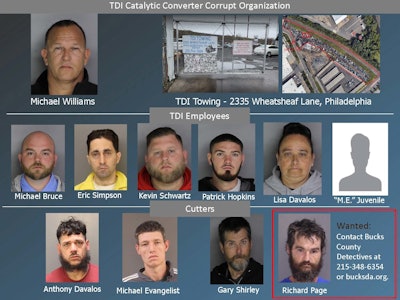 A Pennsylvania tow truck business, TDI Towing, was busted for allegedly running a multi-million dollar "organized criminal enterprise that specialized in the theft of catalytic converters throughout the Delaware Valley region," according to the Bucks County District Attorney.
TDI would allegedly pay at least $10,000 every night to thieves who brought stolen catalytic converters to the tow yard. "On some nights, there would [be] 30 transactions with some thieves showing up more than once," the DA said in a release. "On several occasions, TDI Towing paid $1,000 for a single converter."
The DA said that TDI paid on average $300 per unit. This went on for allegedly three years, with an average of 175 catalytic converters coming in every week.
[Related: Florida fleet owner charged in alleged $112M Ponzi scheme]
More broadly, a catalytic converter theft crime wave appears to have swept the nation since the dawn of the pandemic, with Attorney General Merrick B. Garland directing the execution of 32 search warrants and 21 arrests of individuals in a nationwide bust in November 2022. That bust allegedly disrupted a $100 million theft ring, and in February, both houses of Congress introduced legislation that would stamp catalytic converters with serial numbers and beef up penalties and laws around their theft.
"The market prices for the three main metals in catalytic converters -- rhodium, platinum, and palladium -- increased dramatically during the pandemic because of supply chain issues," wrote the DA.
Theft of catalytic converters got so bad that the Bucks County DA "began to focus not only on individual thieves, or 'cutters,' but also the organizations or businesses purchasing the stolen" parts, the DA said.
A video released by the DA claims to show a still-hot stolen catalytic converter being delivered to TDI at night, which authorities say appeared to operate as a normal business during the day.
"This is an example of a catalytic converter stolen so recently ... that it was still too hot to handle," Bucks County District Attorney Matt Weintraub told local media of the video.
We've documented recently an apparent rise of questionable towing practices and fees, but in reviewing about a dozen cases didn't come across thefts such as these taking place.
[Related: Tow company defends 'predatory' practices]
"TDI Towing was registered with the state as Diversified Towing & Recovery Inc., but was also listed in business documents as TDI Inc. and Tow Decisions," according to the DA.
The DA said most everyone charged was an employee or family relation to TDI owner Michael Williams, who was arraigned on felony charges. One of TDI's alleged "cutters," a TDI employee by day, had "several open warrants" for catalytic converter theft in Bucks County, "and would always flee back to Philadelphia when police attempted to stop him," the DA said. Another TDI worker had been convicted of stealing 22 catalytic converters and later failed to appear for sentencing.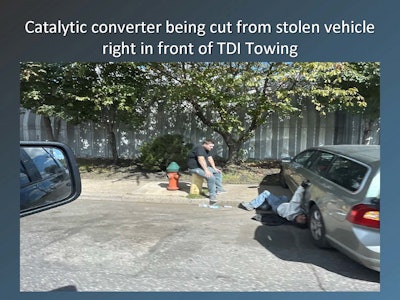 In one case on June 16, 2021, the DA alleged that thieves associated with TDI were caught in the act of stealing a catalytic converter, but the getaway driver drove toward the detective, crashed into a parked vehicle, and fled. "If the detective had not moved, he would have been pinned between the two vehicles," the DA wrote.
TDI, as well as 10 adults and one juvenile, have been charged by the DA after a nearly yearlong investigation.
"TDI Towing and its employees were charged with corrupt organizations, criminal conspiracy, dealing in proceeds of unlawful activities, theft by unlawful taking, theft of catalytic converter, theft by receiving stolen property, possession of an instrument of crime, and criminal use of a communication facility," the release continued.
Only one defendant, Richard Page, has not been arraigned, and the county is looking for help locating him. They describe Page as missing fingers on his left hand. (Contact contact Bucks County Detectives at 215-348-6354 or www.bucksda.org with any tips.)