Following two reports on the apparent rise of predatory towing, and its many resulting horror stories that left owner-operators in shock and dire financial straits in some cases, one brave towing company operator stepped forward to justify rising tow rates.
Daniel Wade of Tony's Towing in Fairhope, Alabama, read those horror stories and, in many cases, took the tow operator's side.
[Related: $6,000 for 16 miles? Viral video sparks outrage over predatory towing]
"While I agree that there are bad actors out there, just like with any profession," Wade wrote, "the large majority are not out to take advantage of anyone, but rather, simply to earn a living. Some of the stories listed, when looked at from a tower's point of view, do not seem that unreasonable at all."
Keep in mind, this is after several towing companies were made infamous with viral online posts, the most widely shared involving a $6,000 bill for moving a tractor and trailer just 12 or so miles. In that case, Ingram's Towing and Recovery in Charlotte, North Carolina, used tools to enter a truck, start it, drive it less than a mile, and then other tow trucks hauled away the truck and trailer before demanding $3,000 to release each item.
But unlike Ingram, Wade isn't interested in towing for private lots. He's on the police rotation, meaning he gets called out in a moment's notice to accidents and other incidents, and he has to roll out "whether I like it or not, whether I get paid or not," he said.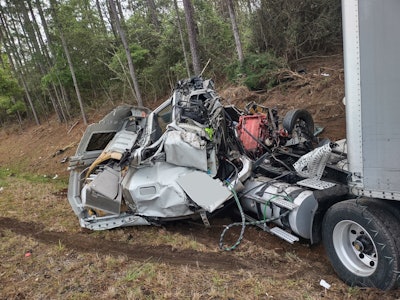 Wade points to the rising costs of doing business as justification for the fees tow companies charge, though today they're wildly out of line with historical trends, according to both Wade and the drivers towed.
[Related: Towing horror stories: $7,000 for a cross-town haul]
Wade provided documentation of his own rising costs. In November of 2020, he posted on Facebook complaining about "a handful of air fittings" for a wrecker costing around $230. In 2022: A receipt showing the cost had more than doubled to $475.
With Wade's outfit numbering around 26 trucks, that's a lot of fittings.
Truck costs, too, have shot up in that time, as anyone in trucking can attest to. Wade showed an 2016 invoice for a 2017 model year Century Integrated 5130 wrecker body on a Freightliner M2 that set him back $225,000, and then contrasted that to listings for a near-identical wrecker asking for $475,000. Granted, prices on listings don't always hold at the time of sale, but it's safe to say the towing world has seen price inflation just like trucking has.
[Related: FMCSA's new agenda, diesel's wild ride, and the owner-operators who braved a 'bloodbath': 2022 in review]
Three wrecker dealers consulted for this story all noted prices had gone up at least 25%. "I get sticker shock every day," said one parts procurement professional. "Inflation has gone crazy," he added, suggesting vendors and manufacturers "used COVID as an excuse to kill everyone on prices."
Inflation's not all there is to it, though. For Wade, in some ways it's like an owner-operator getting stiffed by a broker. "The issue at hand stems greatly from the way we are treated as a business," he said. "In the past six months, my small-town Alabama towing company has lost over $75,000 in unpaid recovery fees alone."
Say a trailer gets trashed in a wreck, and the police call Wade out for an hours-long recovery involving multiple pieces of equipment. Wade may have to roll out a half-million dollars worth of equipment at three o'clock in the morning at a moment's notice. After all that work, he presents the truck's owner with a bill for $3,000.
Is that carrier going to pay Wade $3,000 to recover a completely destroyed trailer, that they'll then have to dispose of themselves? If insurance doesn't cover it, Wade says, most often the answer is no. Wade can go after the equipment itself by pursuing liens, but just as with an owner-operator thinking of taking an unscrupulous tow company to court, that takes a long time, a lot of effort, and isn't sure to work.
"Some states have strong lien laws that have been perfected by the courts," he said. "Some have lien laws on certain items -- only the vehicle, but not cargo. Some have no lien laws. The issue arises when there is partial insurance coverage and they want an item without paying the entire invoice. We can risk getting paid nothing and keeping junk or take what we can get and release the only valuable parts of the unit that are covered."
This gets to the heart of the issue. When William Booth had to pay $3,000 to get his trailer swung 10 feet out of a ditch, he wasn't just paying for his own tow, in essence, but the many other tows that never paid up, and the sometimes mightily-expensive equipment that showed up when the police called.
"Yes, it is cost shifting," Wade said, "but it must be done to stay in business."
The cost of owning, operating, and maintaining the specialized heavy equipment, too, "must be figured into our rates unfortunately," given that equipment is required to do "the nonconsensual work," those police-rotation jobs, said Wade. New heavy-duty rotators, the kind of gear you need to move a loaded trailer, can cost north of $1.2 million, Wade said, and cost a lot to maintain. He thinks of them as a cost, simply, something he's required to have for his police rotation work but not a real money maker.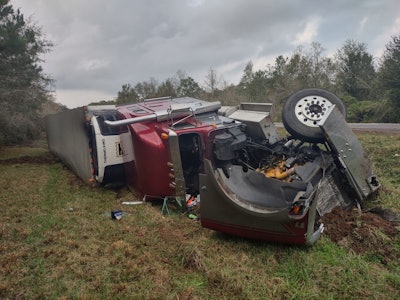 Owner-operators and trucking broadly have seen the same cost inflation Wade has. Used-truck prices nearly doubled at their heights during the pandemic as production dwindled and demand rose. Basic items like tires and even oil rose in price too, along with insurance costs.
[Related: Seller's market: Owner-operators adapt to skyrocketing used-truck prices with tight volume]
According to the American Transportation Research Institute's recently updated analysis of carriers' operational costs, trucking has never been more expensive, with costs topping $2/mile. Meanwhile, spot market rates averages have been hovering right around that figure for dry van loads.
Freight broker Joe Cabrera, after his carrier was hit with a $7,200 cross-town haul in Houston, Texas, put it all in perspective this way: "That's more than we charge to haul freight from Florida to California."
Unlike some in the tow business, Wade sympathized with truck owners and drivers.
"I've been in business 30 years. We definitely have sympathy for drivers," he said. "There's times when it's a $1,500 [job] and I'm looking at this guy, thinking, 'This guy, he needs help, there's no way I'm charging that much.' ... We have compassion, we're not robots out here. We're doing the job and trying our best."
On that score, after 30 years in business, Wade noted he's only weakly profitable, and that people in his position who charge high prices often are not swimming in cash themselves, as high as their hourly rate might be for something like a heavy rotator job.
What profitability he does have comes mostly from the 70% of his business that focuses on light-duty vehicles, he said. And overall, he feels like wrecker and truck drivers and owners all fall victim to price inflation and gouging. "We gotta fight that just like you gotta fight that," he added of bad actors in both towing and trucking. "Prices are ridiculous, I'm with you guys on that."
As with trucking, as with towing. They've got trade associations, too. The Towing and Recovery Association of America previously offered itself and other associations as a resource to truck owners and drivers who feel they've been the victim of predatory towing.
Here's their statement on the issue of predatory pricing in full:
The Towing and Recovery Association of America, Inc. (TRAA) does not condone illegal or unscrupulous practices including what is referred to as "predatory towing." As with any profession there are always a few "bad apples" and towing is no exception. All professions struggle with a very small minority of "bad actors" who give their industry a black eye. The cost of performing towing and recovery operations varies by state and company based on the size of operation and services provided. It is important to note the excessive cost to own, operate and maintain the proper towing equipment and have the staff available 24/7 to respond to roadside incidents. In addition, many towing companies respond and recover vehicles with no guarantee of payment for their services. Some of the issues associated with the term predatory towing are unfounded. TRAA has been proactive on this issue, and as part of a national committee requested invoices to document overcharging from the various trucking industries. We received only a handful of invoices ranging from over a three-year period. Given that there are tens of thousands of incidents per year, the problem is less than one percent of all towing recovery operations performed each year. As skilled professionals, the vast majority of towing and recovery companies are family-owned and are honest, law-abiding members of their community who perform an essential service in keeping the nation's roadways clear and safe. For state specific information, state towing associations are a valuable resource.
[Related: Say no to 'legalized theft': More states should act to rein in rampant abuse of nonconsensual tow fees]