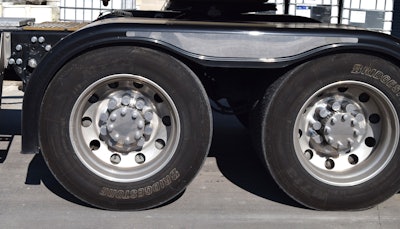 The Bridgestone low-pro 24.5s on owner-operator John McCormick's 2021 Kenworth W900L are getting fairly close to the mileage where he'd typically replace them with virgin rubber in all positions. He's about 30,000 miles or so shy of the 250K mark with them. "I'm going to need them pretty soon," he said. "I was kind of wanting to have a set on there before the snow flies, but I never did get it done."
He still has "plenty meat on the tires" he's got, in any case, yet early inquiries with the service folks at a truck stop along his routes in North Central Kentucky delivered a notion this past week that surprised him.
"They said they can't get any 24.5s," said McCormick. "Their tire dealers were telling them they would cease production on it, and said there wasn't any demand for it."
Yet: How could that possibly be, he asked himself, given, for instance, the entire fleet of thousands of pneumatic trailers owned by his leasing fleet, Oakley Trucking, seemed to be outfitted with tall 24.5s? That's to say nothing of his own and countless other owner-operators' low-pro 24.5s.
McCormick's not the only one having 24.5 tire sourcing issues. A whopping 43% of all respondents to Overdrive's recent parts-sourcing survey reported difficulty sourcing tires at some point over the past three years, generally. More particularly, Gary Wasko of the G.L. Wasko & Sons small fleet, based in Michigan, has struggled with it for two years, he said, to the point that he bought as many replacement 24.5s as he could, well ahead of the needed replacements. The 12-truck fleet, like McCormick, runs low-pro 24.5 tires on all of its tractors, and at one point Wasko "had 10 new steer tires and I had two sets of drives here" stored in the shop and at the ready, he said. "We're a small company, so that's unusual, but it was what I felt like we had to do to be able to get through this hump."
Owner-operator McCormick spoke to a manager in his fleet's shop who noted a move to recaps in some measure for the company's trailers -- out of mere necessity with lack of availability. And ultimately, that's been the issue -- availability, not a move to totally phase out the 24.5 size, according to numerous tire makers.
A Yokohama rep, answering a query about a rumored phase-out of the size, noted simply, "We are continuing production on the 24.5 and have supply."
Have you experienced parts-sourcing difficulties in recent years? Contact Overdrive News Editor Matt Cole to contribute to his upcoming reporting with your story.
Bridgestone spokesman Zac Ellis, too, noted "Bridgestone Americas continues to see demand for the 24.5 tire size across the commercial industry. While some customers are beginning to shift towards the low-profile 22.5 size due to benefits such as increased fuel efficiency, the 24.5 remains a market priority as we look to meet existing demand."
That shift has long been under way, and it's certainly true that the 22.5 size is now by some measure the most-common one for highway applications. That's according to another major tire manufacturer who declined to go on record yet emphatically emphasized that the 24.5 size is not being phased out.
That manufacturer rep also echoed perspective that was shared with small fleet owner Wasko by a dealer in recent weeks, that manufacturers are finally getting back to making 24.5s in earnest after the size took a backseat for a couple of years as raw material supply chains (rubber, carbon black) were thrown into disarray with the pandemic, giving tire manufacturers sourcing problems of their own.
For the low-pro 24.5s that McCormick and Wasko utilize, ongoing sourcing issues could be the result of a general decline in demand in recent years. That's suggested by what Michelin spokesman David Finleyson had to say about how Michelin has "prioritized production based on the largest demand. Market demand for the 24.5 in standard and low-profile dimensions still exists." Low-pro 22.5s, he added, "have seen the most demand in current years, while the low-profile 24.5 demand has decreased the most."
Neither McCormick nor Wasko, though, intend to move from the low-pro 24.5 if they don't have to. Wasko said he prefers the 24.5 size given better miles to replacement he's tracked in his operation. Several tire dealers have suggested he make the switch to 22.5s, given availability, yet "I'm not going to switch," he said.
McCormick has run 22.5s on two past Western Stars. He didn't spec his current truck, rather purchased from a dealer new and as-is, with 24.5 rims. He said the hard switching cost of tires and rims that would be required for the truck sat as high as $8,000, to say nothing of a change in engine performance that could result with a changed overall wheel/tire diameter. No thanks.
After McCormick first reached out about rumors of the 24.5's demise, his brother, owner-operator Bill McCormick, got word from a Goodyear tire dealer that he could still get low-pro 24.5s, but it might take him a while. The tire maker, the dealer noted, was getting back to normal levels of production for the size.
Given continued availability issues, that could be something of a work in progress.
[Related: Pricing problems in the parts aftermarket? Owner-operators like Lee Epling are adapting]