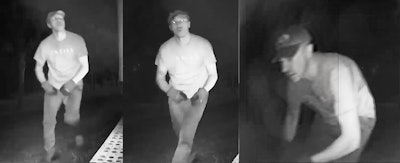 FHP
The Ice Pick Bandit -- the by now well-known and quite brazen vandal, perhaps even a group of vandals who go around in the wee hours of the night attacking the tires of trucks parked on exit ramps -- has struck again in South Georgia and North Florida, this time two nights in a row.
Since we began reporting on these incidents, which all seem to follow an eerily similar pattern, at least a dozen reader reports of vandalism have come in. The reports range in geographic area from as far as northwest as Kentucky to southern Georgia and northern Florida. (If this has happened to you or someone you know, please get in touch with [email protected] with police reports, photos, and whatever records you can muster to help the search.)
For now, here's the latest from Florida Highway Patrol Troop B Public Affairs Officer and Lieutenant P.V. Riordan:
"We have had two additional incidents -- one on the 23rd and one on the 24th, both in Columbia County on I -10, at the U.S. 41 exit and at the U.S. 441 exit," he wrote. "We do not know if an ice pick is being used -- but it is something similar in nature that pierces the tire with a very small hole."
As previously reported, the tiny holes present a massively annoying and costly safety challenge, as the small holes don't flatten the tire all at once and they can be nearly impossible to find.
In one incident in Columbia County, driver Dan Hoot reported his brake lines and airbags stabbed up too.
"Attempted murder," one commenter suggested about the vandalism to the brake lines.
Overdrive has also been in touch with WCJB, a local TV station further south in Gainesville, Florida, which has covered the case. WCJB broadcast the news on Wednesday, with details on a driver who had nine of 18 tires punctured.
But Overdrive heard from another driver who reported to police 17 out of 18 tires punctured in Lowndes County, Georgia, before taking his load into Florida the next day. At this time, due to the volume and speed of the vandalism attacks, it's not even clear if this driver was one of the two FHP mentioned.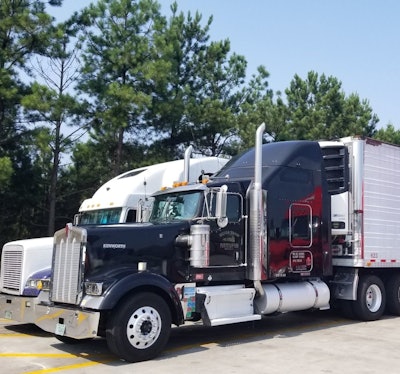 During the overnight hours of Monday, Oct. 23, McDonough, Georgia-based owner-operator Terence Charles, owner of Silver Train Express Trucking, was taking a load from his home base down to the Tampa, Florida, area. He said he stopped in Adel, Georgia, (where driver David Lucas had his truck's tires punctured) at Exit 39 at 11 p.m. Monday for fuel. Never leaving the truck or the busy fuel island, Charles said he noticed during a walkaround of his 2006 Kenworth W900 and 2018 Great Dane reefer there was oil under his truck and on the frame.
Upon further inspection, Charles realized he had a leak from his oil cooler. Knowing there was a Southern Tire Mart about 37 miles down the road in Lake Park, Georgia, he decided to get a little closer to his destination and park at the shop and be the first truck in line when they opened Tuesday morning. He arrived at the shop at 12:03 a.m. Tuesday, Oct. 24, and went to bed.
He woke up shortly after 6 a.m. and got out to check for more oil on the ground and discovered two of the tires on his trailer were flat. At the time, he didn't think much of it, thinking maybe he ran over some nails at some point. Once the shop opened, and upon further inspection, it was discovered that some of the other tires on his truck were low on air, around 75 psi. One of the workers at the shop did a soapy water test on the flat trailer tires and discovered several holes in each, leading them to believe those had been punctured. With no visible holes on the rest of his tires, Charles decided to have the shop put two of his own spare tires on the trailer to replace the flats, and he would put some air in the other tires on the truck down the road.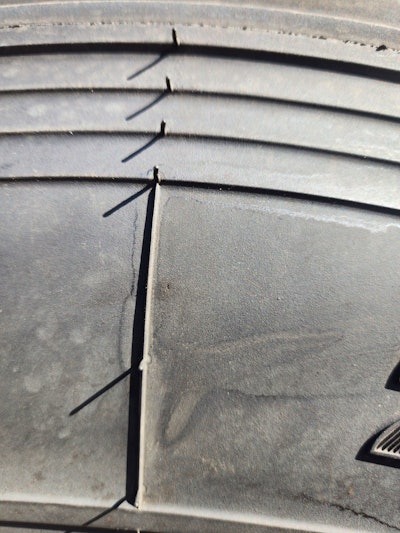 By the time he got rolling and crossed into Florida, Charles was approached at a weigh station just inside the state line about his drive tires being low. Luckily for him, it wasn't a trooper that saw it, but a scale master, so he was allowed to go to the Love's at the next exit and put sufficient air in his tires to get to Tampa. After making his drop, he called police and met them back in Lake Park, filling up with air twice along the way, to file a report and show exactly where he was parked.
Charles believes the tire shop is where the punctures were made, but he doesn't know who is responsible. All told, he found 17 of his 18 tires to have been punctured, with the sole survivor being the driver's side steer. For now, his truck is down while he awaits an insurance adjuster to come out Monday. He then will have to decide if he wants to let insurance cover the cost of new tires and deal with likely increased insurance costs, or pay the roughly $9,000 out of pocket to replace the tires himself.
"FHP still seeks any video, photos or tips the public or the trucking community has about the individual(s) involved," Lieutenant Riordan concluded.
[Related: I-75 'Ice Pick Bandit' punctures truck tires, air bags of parked trucks]