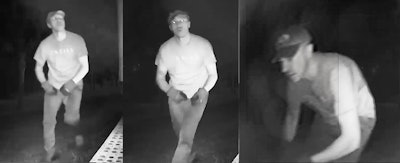 Florida Highway Patrol
The vandal terrorizing trucks up and down I-75 in Georgia and Florida has struck again, this time on October 10, hitting all 18 tires, four airbags and brake lines in an eerie attack on a truck parked on an off ramp.
Dubbed the "Ice Pick Bandit" by his latest victim, police have now reignited the hunt for the vandal.
While it sounds like a Halloween prank or an urban legend meant to scare teenagers off of makeout point, Overdrive has been in touch with a half dozen truckers with personal experiences having their truck tires vandalized in the wee hours of the night by a bold assailant that has given police the slip so far.
After two incidents in Georgia, which Overdrive reported on, yet another victim has come forward, this time outside of Lake City, Florida, just about 50 miles south down I-75 from the Georgia border.
Driver Dan Hoot, from small fleet Haulin' Ass-Phalt, found himself a victim of the truck parking crisis and had "no other choice" but to pull off on a wide spot on the off ramp at exit 427.
That was at about 11:30 p.m. the night of October 10. Hoot did his post-trip, "and when I stopped, there were absolutely no problems with the truck or trailer."
Hoot went to bed just like any other night. When he woke up, having done a thorough post-trip the night before and figuring nothing much could have changed, he pulled out and "maybe 150 yards up the road, I noticed on my passenger side, the trailer was probably leaning about 60 degrees, so I pulled over." Forced to reverse back onto the off ramp, Hoot got out to take a look.
Hoot discovered what's now become an eerily common sight up and down I-75: Apparently meticulous, devastating vandalism done all around his truck and trailer in the dark of night.
"From what I could see, the steer tire on the passenger side was fine, so I walked back around to the drive axles, and both my passenger side drive tires were completely flat. Walked back to the trailer, and they were all completely flat."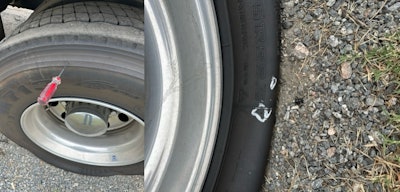 That's exactly what driver David Lucas saw when he woke up after parking on an off-ramp in Adel, Georgia, about 80 miles north, in early October. Mike Leach, director of fleet safety at Nu-Way, said one of his drivers had the same experience in Perry, Georgia, just under 200 miles north, on September 7. Both Lucas and Leach heard from the local tire shops that this wasn't the first time they'd seen it.
The attacks seem to be getting worse.
Hoot spent the rest of his morning on the phone with dispatch and local tire shops. As the sun rose, he noticed the front axel "starting to go low" as well.
"On further investigation, I could see all the tiny holes" in the steer tires, too, he said. "It's actually pretty ingenious.,"
Not only were his tires slowly leaking, all his suspension airbags had been hit. The local SpeedCo came out and put just enough tires on the trailer to get Hoot roadworthy, and then pulled it into the shop, he said.
"SpeedCo did a proper inspection on all my air components and found out the perpetrator actually poked holes in all four of my airbags," said Hoot. "The front axle airbags on the trailer, all four brake lines on the front axle, and then he carved up the side of my trailer with whatever it was he was using. It looks like he just scraped it."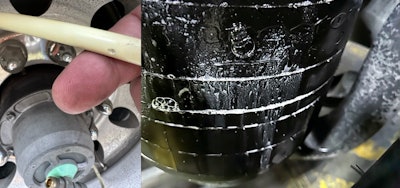 Not only that, but the lock on Hoot's trailer looked like somebody took a hammer to it.
"We ended up, just for my safety, changing all 18 tires, because you just don't know, there could be something they missed and you'd have a blowout later on," he said.
Hoot got Florida Highway Patrol involved, and he said they told him they'd seen maybe 30 such instances like this, but that his was "probably one of the worst" cases of vandalism they'd seen.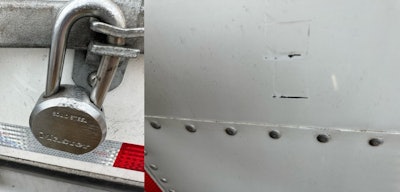 Overdrive got in touch with Florida Highway Patrol and found they issued a press release on June 27 discussing the tire vandalism, which even included images of the suspect, captured from a truck's camera system. Sure enough, it seems common enough around Lake City.
The press release is included below. The photos are at the top of this article.
"The Florida Highway Patrol (FHP) is currently investigating a series of criminal mischief incidents in which multiple semi-tractor trailer tires have been intentionally deflated by an unknown suspect in Columbia County. These incidents have occurred during nighttime hours while semi-tractor trailers are parked overnight at various entrance and exit ramps of Interstate I-75 at the US 90, State Road 47 and US 41/441 exits. In addition, at least one incident also occurred on Interstate 10 in Columbia County. To date there have been six separate incidents where the suspect has used an unknown object to puncture the vehicle and or trailer tires. One victim was able to provide FHP Investigators surveillance images of a potential suspect, described as a young adult white male. The Florida Highway Patrol is requesting that anyone with information about similar incidents or potential suspect(s) contact the Florida Highway Patrol (1-800-387-1290) or their local Crime Stoppers."
An FHP representative said they "weren't aware" of any new cases until Overdrive brought Hoot's case to their attention, adding FHP would look back into the case and also get in touch with Georgia authorities. With victims across state lines, a federal investigation may ensue in what FHP admitted was a "kind of bizarre" case.
[Related: Trucker gets all 18 tires punctured on Georgia exit ramp]
"No arrests were ever made because the subject was never identified, thus the investigation was closed after all leads were exhausted," said an FHP spokesperson. "At that time," the trooper on the case "was aware of four separate incidents. ... Now that the incidents have restarted, our Criminal Investigations Section will be looking into this issue again."
The "million dollar question," said the FHP spokesperson, is what is this person using to vandalize the trucks, and, of course, why?
Hoot's case may provide some insight, and he had no shortage of theories himself.
First off, the "ingenious" nature of the attacks, as Hoot put it, indicates someone with a strong knowledge of trucking. An ice pick, or whatever small tool the bandit used, will bleed air out of the tire just slowly enough to debilitate it, but not quick enough to cause a popping or something the driver would immediately notice.
In Lucas's case earlier in October, his truck was idling. In Hoot's case, he was running a reefer. "It was running all night or I probably could have heard something."
The bandit obviously doesn't lack for boldness, but knows enough to attack trucks in a way that might not invite the driver's full fury, in ways that the driver likely won't notice until morning.
The tiny puncture holes are also maximally annoying. The bandit's victims have reported up to a dozen holes in a single tire, and even the inner tires in a pair of duals were punctured. At the tire shop, Hoot said, it was simply easier to replace them all rather than spend all day looking for every single hole.
Even the location of the punctures, along the sidewall, displays a certain knowledge of how to ruin a trucker's day.
"The sidewall is the weakest part of the tire, and if you puncture a sidewall you have to replace the tire," said Hoot. "You can't patch a sidewall. Whoever is doing this knows where to hit, and I think on a sidewall you'd almost have to use a hammer to get through the rubber and steel mesh."
Hoot spent a lot of his downtime that day searching the internet for any clue. A disgruntled ex-trucker may be doing this, he posited. Maybe it's a misguided environmentalist. Maybe it's a college hazing ritual in SEC country. Hoot can't be too sure.
Hoot, and no doubt the other truckers victimized, might have loved to have caught the attacker in the act, and maybe even present them with a target that can hit back, unlike a trailer tire, but this isn't a normal troublemaker.
"This guy is a psycho," Hoot said.
Perhaps the creepiest detail of all was that Hoot thinks he may have seen the bandit come to survey their work.
"There's a little bit more of a caveat to this story. As it was light and I was waiting for the repairman, a little Ford Ranger, probably a 2022 or 2023, pulled up right behind my truck and sat there for half an hour," he said. "I took pictures of his license plate," but as he was taking pictures, the Ford "took off like a bat out of hell."
Hoot told police about the Ford, and the police, according to Hoot, returned a plate match from Missouri.
Separately, Overdrive has heard from truckers who claim their trucks have been vandalized in the same manner as far away as I-65 in Franklin, Kentucky.
With so many accounts from around the nation, why hasn't a bigger investigation been launched, and why hasn't the vandal been caught? Again, part of the answer may lie in Hoot's own account.
"We're a small LLC operation," said Hoot, whose fleet ended up paying around $15,000 for all the work. "A situation like this could cripple an owner-operator.
"My boss initially didn't want his insurance premiums to go up, but then he started to realize the magnitude" of the damage, forcing his hand, said Hoot. "The sad part is I had a load of live strawberry seedlings supposed to get down there yesterday morning" Hoot said on October 12. ""So now we potentially have a huge claim on my cargo because of this guy."
With the Ice Pick Bandit putting his victims on the back foot with mysterious property damage and disappointed customers, the vandal appears to be preying on a group he understands well how to terrorize. Tips? Get in touch with [email protected] if you have any more information on these types of attacks. Contact Florida Highway Patrol via 800-387-1290.
[Related: Another trucker's tires punctured on I-75 in Georgia]