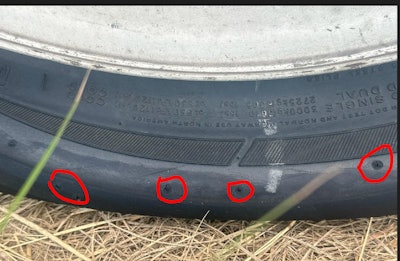 Mike Leach
After every tire on a truck driver's rig was mysteriously punctured multiple times while the driver slept in the cab with his wife, another report of eerily similar vandalism has emerged.
A video posted to TikTok by truck driver David Lucas in early October detailed the strange incident on a southbound run on I-75 from Louisville, Kentucky, to Jacksonville, Florida, hauling a brand-new Maintainer service truck for the Ring Power equipment dealer.
Not finding anywhere good to park, Lucas pulled over on an off-ramp, left the truck idling and well-lit, and went to sleep. In the morning, all 18 tires, plus six on the service truck he was hauling, had been punctured, some as many as a dozen times.
The incident left him bewildered and $10,000 lighter after replacing the tires. Police, according to Lucas, mentioned this wasn't the only time something like that had happened.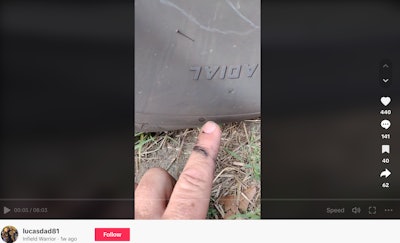 Overdrive's Matt Cole reported on the story on Friday. By Tuesday, Mike Leach, Director Of Fleet Services at Nu-Way, came forward with another report.
"I read the article today about the 18 tires poked in the GA area," he wrote. "This this happened to our company as well," on September 7 this year. He also sent along a picture shown above.
"Our driver was on an off ramp" at "I-75 SB at exit 144 (Richard B. Russell Parkway) near Perry, GA. The area did have some lights so wasn't completely dark," Leach continued.
Perry, Georgia, is about 100 miles north of Adel, where Lucas's incident took place, another small town along I-75.
[Related: Atlanta wants your truck parking expertise]
Leach's driver "found that our airbags had the same small puncture holes in them as well," Leach said, and that "the repair vendor that did ours also said it wasn't the first time they had been out in that area for the same problem."
The incident cost Nu-Way $9,000, "not including downtime or late load to our company," he said.
Leach shared his story so "hopefully more companies will come forward as well."
Have you or your fleet experienced anything like this? If so, get in touch with News Editor Matt Cole: [email protected].