Another day, another truck parking survey. Sigh. Yes, that's my first reaction upon news of yet another survey, study and/or hearing around what should now be an issue of principal importance for national supply chains and infrastructure planners.
Longtime parking-issues advocate and former owner-operator now working with the TSPS parking provider, Scott Grenerth had a similar gut reaction when he sent along news of the Atlanta region's metropolitan planning organization's (MPO) new survey aimed at truckers who commonly haul to, through or within the region -- one that's been described in past as a veritable #parkingdesert, to use the hashtag our own Paul Marhoefer put on a particular stretch of I-75 North through Atlanta some years ago.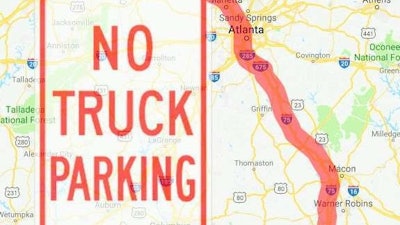 "Yaaaaaay," wrote Grenerth. "Yet another study."
Yet he didn't let cynicism get the best of him.
"I do know this can help lead to action eventually," he added. "So I'm hoping that will be the long-term outcome."
It's not just truck parking that the Atlanta Regional Commission (ARC) is examining in what reps there describe as a 'once in a decade" opportunity to weigh in on freight issues. The ARC also asks questions about congestion, delivery challenges, industrial development and land use, workforce recruitment, and various related areas in efforts to put together their 2024 Atlanta Region Freight Mobility Plan.
They reached out to Grenerth specifically in hopes of reaching truck owners and operators, so it's a safe bet they're genuinely hoping to learn -- from you.
The survey, ARC noted, won't take more than 5-10 minutes. The last part of it, they added, includes an interactive map on which you can "place markers on particular areas of issue or opportunity throughout the 20-county Atlanta region. Making these markers on the map is crucial for our study, as it allows us to pinpoint specific areas of concern for future planning and improvement."
Grenerth urges the long view on these efforts. You can take the survey via this link.
Meantime, in addition to traditional options for parking, among others the Store My Truck company has been adding options for daily/monthly parking with reservations and subscriptions at a variety of locations around the Atlanta area. I wrote about them a little in this story about the TruckParkingClub.com reservation site.
[Related: New site to reserve truck parking something of an 'AirBnB' for facilities]
U.S. 23 north of Columbus, Ohio
Ohio DOT, too, is seeking public input on a section of U.S. 23 north of Columbus -- specifically between I-270 up through Waldo on the route toward Toledo, an area Grenerth noted has seen quite a bit of population growth in recent years. Four separate outreach meetings are being held upcoming in November. It's part of what's being called the 23-Connect Project, conducted with both Toledo and Columbus regional MPOs. Find plenty in the way of detail about the projects at the 23-Connect website, and details on both in-person and online/remote meeting options follow:
The in-person meetings will be hosted in an open-house format with no formal presentation, planners note. The same information will be available at all in-person meetings. Attendees are urged to simply stop by to provide input at any time during the meeting hours:
Meetings 1 & 2: Wednesday, Nov. 8, 12-2 p.m. and 5-7 p.m. at Delaware County Fairgrounds, Ag Building, 236 Pennsylvania Avenue, Delaware, OH 43015
Meetings 3 & 4: Tuesday, Nov. 14, same times as prior at Nationwide Hotel and Conference Center, North Carolina Building, 100 Green Meadows Drive, Lewis Center, OH 43035
Online meetings will include a brief presentation to start. Following that, the project team will answer questions:
**Wednesday, Nov. 15, noon at publicinput.com/23Connect | Join by phone at: (855) 925-2801, code: 4637
**Thursday, Nov. 16, 6 p.m. at publicinput.com/23Connect | Join by phone at: (855) 925-2801, code: 4637