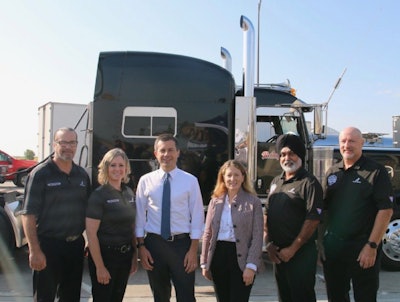 DOT
Truly nothing brings out society's best and brightest like National Truck Driver Appreciation Week, when everyone from top Biden Administration officials to trucking-adjacent charities and nonprofits, mega fleets and shippers pours their hearts and generosity out on the professional driver.
But, according to recent Overdrive polling, an outright majority of drivers don't care.
To be sure, there was plenty of real deals, charity work, and heartfelt thanks to go around the week of September 10 (FMCSA even has a specific day, September 14, for commercial drivers). Pete Buttigieg, Secretary of the Department of Transportation, met with the American Trucking Associations and other industry big wigs to announce $80 million for truck parking in South Dakota. That's real money going towards a real need -- parking.
"The food you ate for breakfast, the clothes you're wearing, the device you're using to read this -- most likely all reached you thanks to truck drivers. Happy #TruckDriverAppreciationWeek," tweeted Buttigieg.
One could get the sense that through this special week of the year, people outside the trucking world feel like they get to connect with something "real" -- the logistical underpinnings and the hard work that makes white-collar life easy enough.
But for those actually behind the steering wheel, another set of very "real" factors obscures the shows of appreciation, and can make the whole affair seem, frankly, fake.
The above graph shows that about 18% of drivers take the week for what it is, a chance to elevate truck drivers in the eyes of the public. With trucks so often seen as rolling dollar signs to billboard lawyers, tow truck companies and anyone with space to park, this represents an important and worthwhile mission.
Another 17% find ubiquitous discounts on goods, mostly food and drink at truck stops, helps the bottom line. A few appreciated cash bonuses and time off. An extremely virtuous three percent liked that the week gave them time to show appreciation to fellow truckers, and a downright selfless 1% of those among you mostly liked the charitable donations brands make on that week -- or that you make yourself.
Nobody's arguing that owners and operators don't appreciation, or even a week's worth, and Overdrive contributors aren't shy about making the case that the image of the trucker needs some elevation within society. But here's the thing about a discount on snacks or cash bonuses -- drivers and don't need a half-price meal, they need good rates and wages, and respectful accommodations year-round.
As owner-operator Carolyn Wieberg, who hauls with her husband, Rick, put it, thinking back on appreciation weeks of yore, the pair only ever got "candy bars, energy bars, nothing that good, really."
As far as real appreciation for truckers goes, in her view "those days are long gone," she said.
Terry Adams has driven OTR for 43 years, with a mighty 28 of them as an owner-operator. In recent years, he's hung up the saddle, chased out of the industry, as he put it, by heavy regulation, low rates and the general sense that the country he works so hard to haul freight in doesn't have his back.
He's with the 51% of drivers that find appreciation week little more than a PR stunt.
"The only one that seems to appreciate truck drivers is the truck stops that want your business," said Adams. "The rest, I don't think so much."
It's a business, after all. "Even the shippers are gonna go with the cheapest company they can get," said Adams. "They don't care anything about service anymore."
For Adams, who hung it up just after the pandemic elevated him to the elite status of "essential worker," some of the government's moves around that time proved a bridge too far. "Even during COVID it was just ridiculous," he said. "Shippers you go into wouldn't even let you use the restroom. They were closing up the rest areas so we couldn't use the restroom and had no place to park.
"I sure didn't feel very appreciated. That's why I got out of the industry."
The American Trucking Associations launched NTDAW in 1988. That's 35 trucker appreciation weeks that washed over Adams without convincing him anyone actually cares. And three years after Adams' COVID trucking expeirence, if legislators still can't even come together in enough numbers to guarantee drivers the right to use a bathroom, it may be a bit premature to talk about appreciation like it's a universally understood value.
So what might yield a real sense of appreciation among OTR haulers? Safe and available parking. Brokered rate transparency. Meaningful regulation/enforcement to keep bad actors out of the business and improve safety on the road. Common-sense collaboration on supply chain logistics that accomplishes something more than just helping policymakers and environmentalists feel good.
To name a few, that is. Those might make for a great start.
[Related: POLL: What's your No. 1 concern in trucking today?]