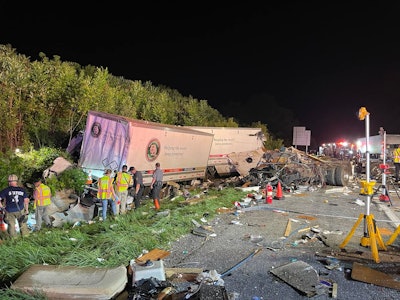 Franklin County Fire
An RV hauling a 20-foot enclosed trailer crossed a median and into opposing traffic, striking a tractor trailer head on in a crash that killed five on August 9th at 8:50pm, on Interstate 81 in Franklin County, Pennsylvania.
The crash, which took place on the northbound side of the highway at mile marker 18, resulted in a massive rescue and recovery effort involving at least two fire trucks, according to Franklin County Fire.
Police later determined the crash was caused by a blown left front tire on the RV. The truck operator, James Shade, of Martinsburg, West Virgina was pulling doubles up the northbound lanes when the RV crossed and struck him head-on.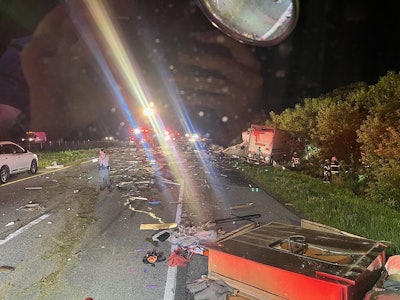 "Squad 41 and Engine 43 began searching for victims in the wreckage which spanned roughly 500 feet of roadway," Franklin County Fire wrote. "Members located 4 people ejected from the RV and 1 person entrapped in the tractor trailer. Sadly, all 5 were pronounced dead at the scene."
Multiple other Fire and EMS agencies assisted in searching the debris for additional victims, finding one dog also deceased. Units "remained on scene for several hours dealing with a leaking propane tank and a large diesel fuel spill," they wrote.
Franklin County Fire thanked Sheetz and McDonald's for donating food to members operating on the scene.
[Related: Trucking loses another: Remembering retired owner-op and Army Staff Sergeant Daniel Joye]