Trucking news and briefs for Thursday, June 29, 2023:
FMCSA board focuses on training, retention of female drivers
The Federal Motor Carrier Safety Administration's Women of Trucking Advisory Board met again on Thursday, this time focusing on ways to improve training and retention of female drivers, and they took aim at some of trucking's biggest obstacles.
WOTAB, which previously discussed barriers to entry for women into trucking, turned its attention to reasons women might leave. Quickly, the board, which includes recruiters, drivers, owner-operators, carrier executives and many others from across trucking, turned to problems like the Fair Labor Standard Act excluding truck drivers from overtime pay requirements -- something many within trucking have fiercely advocated against and which saw action in Congress last session.
"It's really hard to encourage people to enter the industry and stay in when they find out they don't get paid for all their time," said Kellylynn McLaughlin, a driver for Clean Harbors, Inc.
Others on the board expounded on the difference between "trucking companies" and "companies with trucks," saying often drivers with private fleets enjoy better pay and benefits, but don't think of themselves as working in the trucking business. The board wondered if big dedicated fleets could do more to spread awareness of trucking as a career path.
More broadly, the group called for a series of public service announcements at the national level aimed at improving trucking's image.
McLaughlin pointed a finger at NIMBYs, or the "not in my backyard" anti-development crowd that frequently blocks truck parking projects.
[Related: How to fight for your right to park the truck]
She called for a publicity campaign that would convey the message: "Hey, we're real people and we work really hard. We'd love to stay in your community and spend money, but you keep pushing us out."
Marquita Jones, an autonomous vehicle operations test driver at TuSimple, suggested billboard lawyers pursuing ever-higher nuclear verdicts against trucking companies were part of the problem.
"I don't see any ads about becoming a truck driver that's positive ... out there on our roads, which is where we would need to promote it," she said. Instead, she only sees lawyers looking to sue.
Overall, the board lauded efforts like September's Truck Driver Appreciation Week, but said they needed to be expanded and reworked to include female truckers.
[Related: Is it overtime for company truck driver overtime pay?]
Kenworth donates T680 Signature Edition for military vet rookie trucker award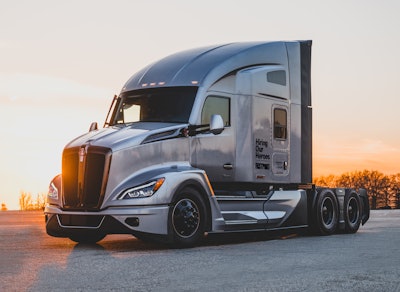 Kenworth, Fastport and the U.S. Chamber of Commerce Foundation's Hiring Our Heroes initiative are again partnering in the search for America's top rookie military veteran driver who made the successful transition to the trucking industry following military service.
Under the "Transition Trucking: Driving for Excellence" recognition program, Kenworth will provide the top award for the eighth consecutive year. In recognition of Kenworth's 100th anniversary, this year's award is a T680 Signature Edition Anniversary truck. The T680 Signature Edition is equipped with a 76-inch sleeper and the Paccar Powertrain featuring the Paccar MX-13 engine rated at 455 horsepower, Paccar TX-12 automated transmission and Paccar DX-40 tandem rear axles.
The T680 Signature Edition's Diamond VIT package features a black onyx grille and side air intake, and prominent Kenworth 100 badges on the sleeper. The truck is painted in Century Platinum Metallic signature paint and features specially designed anniversary wheels in black.
It also has black interior with legacy red stitching accents throughout the cab and sleeper. The package also includes Kenworth 100 branded GT703 seats with red accents, special brushed platinum dash and door trim, and Kenworth 100 logo stitched into the sleeper back wall.
Nominations for the Transition Trucking: Driving for Excellence award can come from fleets of all sizes, organizations or CDL schools.
"Just last year, winner Ashley Leiva was nominated by the driving school that trained her," said Genevieve Bekkerus, Kenworth director of marketing. "Each year, I look forward to getting to know the inspiring award finalists, and I am thrilled that Kenworth is able to award a deserving veteran the T680 Signature Edition in honor of Kenworth's 100th anniversary."
The top driver will be determined by an expert panel of judges. To qualify, drivers must meet eligibility requirements as specified in the official Transition Trucking: Driving for Excellence Award rules, including:
Be a legal resident of the continental United States and military veteran or current/former member of the National Guard or Reserves.
Graduated from PTDI-certified, NAPFTDS or CVTA member driver training school, with a valid CDL.
Have been employed by any for-hire carrier or private fleet that has pledged to hire veterans and hired as a CDL driver after January 1, 2022
Nominations are open now through July 31. The top 10 semi-finalists will be announced on Sept. 1. Public voting of the three finalists will begin Oct. 27 and continue for two weeks. On Dec. 15, finalists will gather at the U.S. Chamber of Commerce where the final award announcement will be made, and the winner will drive home in the Kenworth T680 Signature Edition.
[Related: Kenworth celebrating 100th anniversary with W900 Limited Edition and much more]
Former FMCSA investigator convicted, sentenced for extortion
On June 12, former Federal Motor Carrier Safety Administration Border Investigator Patrick Gorena was convicted and sentenced for extortion in the U.S. District Court for the Southern District of Texas.
Gorena was sentenced to 10 months in prison, a $5,000 fine, and a $100 special assessment.
Gorena pleaded guilty to extortion and admitted to soliciting a bribe from a trucking company. He accepted a bribe payment during a meeting with an undercover law enforcement agent. In exchange, Gorena agreed to provide a favorable safety audit report that would allow the carrier to avoid fines and retain its authority to operate.
According to court documents when the charges were initially filed, Gorena allegedly demanded a $3,500 cash payment in exchange for the favorable audit. The charges alleged Gorena ultimately accepted a $2,000 bribe from an undercover law enforcement officer posing as a representative of the trucking company.
Truckstop celebrates first anniversary of Partner Marketplace
Truckstop this week is celebrating the one-year anniversary of the Truckstop Partner Marketplace.
"We're thrilled to continue to pave the way for one of the largest transportation and logistics partner marketplaces in North America," said Alan Alberto, director of partnerships and alliances, Truckstop. "Over the past year, we have evolved into an even more valuable resource that connects our customers with integrated solutions, discounts on products and services and industry associations that help freight professionals realize success in an unpredictable market."
The Truckstop Partner Marketplace is comprised of both industry and technology partners in several business categories including financial services, insurance providers, TMS (Transportation Management System) integrations, fuel card providers and more.
The most recent expansion of the Truckstop Partner Marketplace includes certified third-party software integrations, where users can search and filter the marketplace by the type of integration they are looking for.
In addition, Truckstop customers can now search the marketplace for exclusive discounts in 30 categories as the company continues to grow its relationship network with carrier, broker and shipper value-added solutions.
In recognition of this milestone, more than 15 of Truckstop's partners have offered exclusive discounts to owner-operators including: